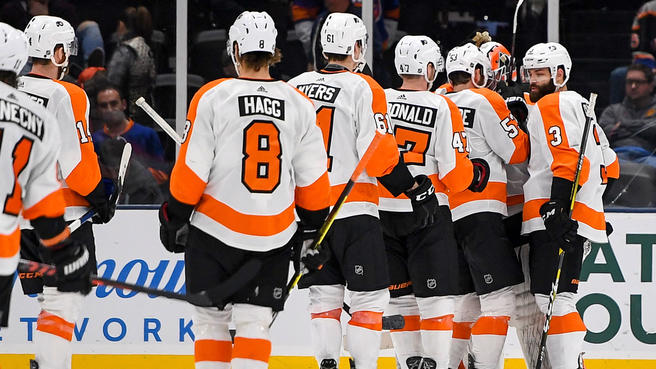 Flyers Take Down Islanders In Statement Win
The Flyers truly are putting together an incredible late season run. A team that drove me absolutely insane from October to January, has now once again captured all of my enthusiasm and I genuinely will be crushed if they miss the playoffs, the same playoffs that I thought for sure were a lost cause 2 months ago. With a huge win over the 2nd place Islanders, the Flyers' playoff chances keep getting more and more real.
The Flyers decimated the Devils on Friday night, as anyone would've expected. However, the Islanders on Sunday were going to be a significantly more difficult opponent, on paper anyways. The Flyers don't play by the paper.
The Flyers jumped out to a 2-goal lead in the 1st, thanks to goals from Travis Konecny and Travis Sanheim, while Elliot continues to look like a new man in goal, keeping the score 2-0 at the 1st intermission.
The Flyers dominated the 2nd period too, grabbing 2 more goals from Scott Laughton and Sean Couturier. Brian Elliot continued to lock it down as the Flyers led 4-0 going into the 3rd.
The 3rd only saw 1 goal, the lone Islanders' goal from Adam Pelech, as the Flyers would go on to win back-to-back games and extend the point streak to 5 games as they would beat the Islanders 4-1.
The Flyers now sit only 5 points behind the 2 wild card teams, the Penguins and Canadiens with 16 games left.