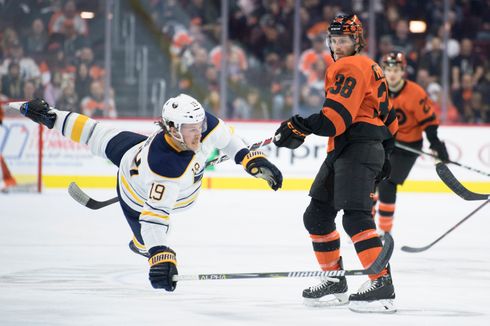 Flyers' Follow-Up Stadium Series With Encore Win
After having lost back-to-back games in embarrassing fashion prior to the Stadium Series, the Flyers have countered with back-to-back wins. The Stadium Series win will likely be a win we look back on for a long time to come, but last night's win vs Buffalo was huge in its own right, as the Flyers' first game in the post-Simmonds era, and first of the Ryan Hartman era.
Hartman definitely seemed to be aware of exactly who he had to replace in the physical bully Wayne Simmonds. In the 1st period, Hartman immediately earned his approval from the Philly fans as he steamrolled the Sabres' Dahlin into the ice, sparking a brawl and earning him a standing ovation. He's gonna fit in just fine here.
The Flyers came out strong in the 1st period, as Oskar Lindblom – who's looking better and better every minute – netted the 1st goal of the game. 5 minutes later, Jakub Voracek put the Flyers up 2-0. Buffalo would counter before the end of the 1st, making it 2-1 at the 1st intermission.
The 2nd period was primarily a defensive stalemate, as it wasn't until 15 minutes had passed that James van Riemsdyk perfectly tipped a shot in for the Flyers' 3rd goal of the game. Buffalo would counter it again, as the deficit remained the same at 3-2 going to the 3rd.
The 3rd period was all Flyers. Travis Sanheim scored less than a minute in, making it a 4-2 affair. As the clock wound down, Claude Giroux drove home the empty-netter to put the game on ice, leading the Flyers' to the commanding 5-2 victory.
Brian Elliot deserves a ton of credit for the win as well, looking fantastic in goal for the injured Carter Hart, stopping 34 of 36 shots on goal.
With the win, the Flyers leapfrogged the Sabres in the standings, now sitting 7 points out of the last wild-card spot, but with a tough Columbus Blue Jackets team and the rival Penguins ahead of them. There are now less than 20 games left.
The Flyers have to play those same Blue Jackets on Thursday, which will be undoubtedly a make-or-break game for the Flyers' playoff hopes.