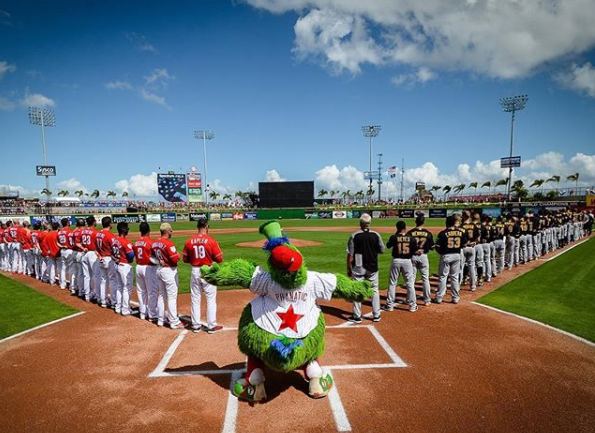 Phillies' Spring Training Officially Underway
The boys of the summer are finally back, as the Phillies have played their first games of spring training, starting on Friday afternoon as the Phillies defeated the Rays 3-2.
Saturday afternoon marked the Phillies' first home game of the spring, as they faced the Pittsburgh Pirates. It was a slower game, as neither offense could get much started. Much of the game was spent at a 1-0 Pirates' lead, then a 1-1 deadlock. The crushing blow came in the top of the 9th, as the Pirates got a 2-run homer to put them up 3-1. Despite a solo-homer by Matt McBride in the bottom of the 9th, the Phillies couldn't complete the comeback, and fell 3-2.
On Sunday, the Phillies were away in Lakeland against the Tigers. They put on an offensive clinic, as Nick Williams and Drew Butera each hit 3-run homers. Dylan Cozens joined in on the slugfest with authority, as he launched a 478-foot moonshot solo homer. At the end of the day, they came away with the 10-6 win, and go into Monday with a 2-1 record in spring.
The Phillies have a busy week ahead, as they play the Tigers again, Yankees, Twins, along with split-squad action on Thursday vs the Orioles and Blue Jays.