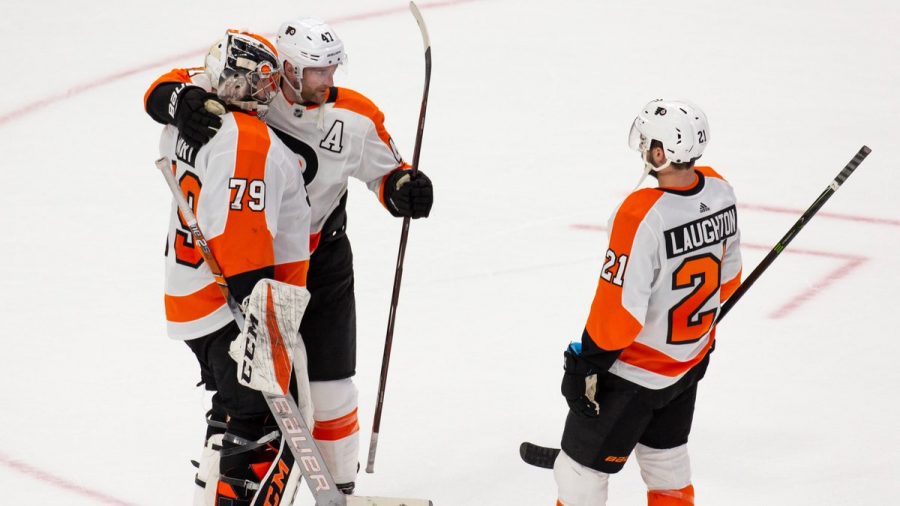 Flyers Pick Up Big Back-To-Back Wins Against Detroit
They're still hanging around in the playoff race, somehow. With 2 big wins in back-to-back games against Detroit, the Flyers sit 6 games back from a Wild Card spot, with 23 games left to play. And with the acquisition of goalie Cam Talbot, the front office seems to believe in their chances to make it to the postseason – something very few believed in earlier in the season.
Game 1 on Saturday was maybe the most frustrating win this season for the Flyers, a win the team quite honestly didn't deserve. The Flyers jumped all over the Red Wings early, extending their lead to 5-1 at the beginning of the 3rd period. Then the wheels fell off, fast. Apparently too comfortable with the 4-goal lead, the Flyers watched as the Red Wings erased their deficit in stunning fashion, tying the game at 5 with a goal from Anthony Mantha, with only a little over 30 seconds left to play. Going into overtime, the Flyers' backs were against the wall big time to avoid what would be maybe the most embarrassing loss of the year. However, Travis Konecny made sure that disappointment would not be their fate, netting a beautiful wraparound goal to win it in overtime, as the Flyers narrowly escaped with 2 more points.
On Sunday, the Flyers knew the Red Wings wouldn't be going down quietly after the impressive comeback attempt the day before. However on Sunday, the Flyers' defense locked it down for all 3 periods, not just 2, as Hart and the Flyers held down the Red Wings for a 3-1 win, giving them a crucial 4-point weekend.
Getting wins against struggling teams is vital for the Flyers, as they have a tough week ahead, including a matchup with the Tampa Bay Lightning and the Stadium Series vs the Penguins.