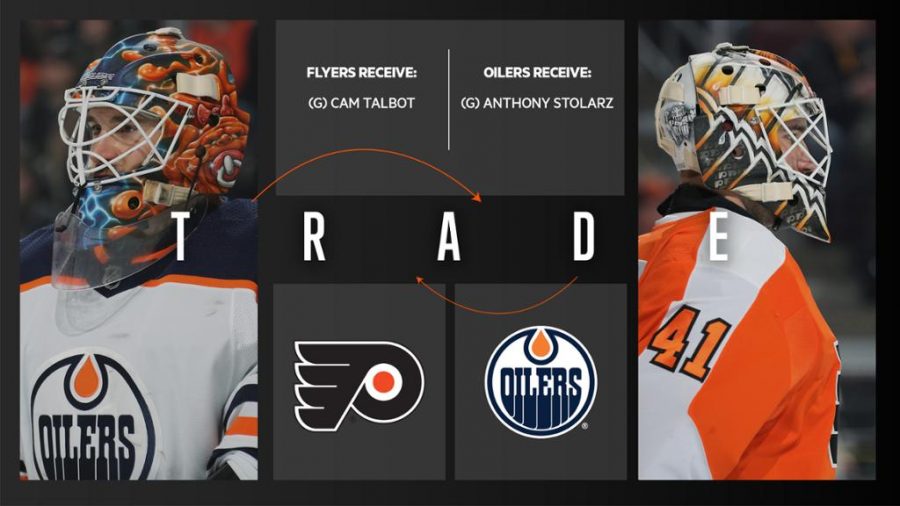 Flyers Land Cam Talbot In Goalie Swap With Edmonton
The Flyers' front office appears to be more confident in their shot at the playoffs than before, but their confidence comes at the cost of young and upcoming goalie Anthony Stolarz, as the Flyers and Edmonton Oilers made a trade sending goalie Cam Talbot to Philadelphia for Anthony Stolarz.
The swap is an unexpected move, but one that indicates the Flyers still believe they can compete. The Flyers' duo of Carter Hart and Anthony Stolarz was arguably the best young goaltending tandem in the league, and one fans looked forward to watching for years to come. However, the front office had 2 major beliefs in the trade: Talbot will provide a great mentor for the apparent new franchise goalie in Carter Hart, and Stolarz's injury history makes the trade a risk worth taking.
The Flyers add Cam Talbot in the trade, playing in his 6th season in the NHL. In the 2018-19 season, Talbot is 10-15 in 31 games, with 1 shutout. He's averaging 3.36 goals allowed per game, but hopefully his numbers can improve with a better team in front of him. Talbot will more than likely be the backup to Carter Hart, as Hart has proven himself to be the face of the Flyers. Talbot will also serve as a veteran mentor to help Hart develop further. Either way, this should solve the Flyers' goalie carousel, as Talbot will be the team's 8th goalie this season alone.
The Oilers get 25-year old Anthony Stolarz in exchange for the 31-year old Talbot. Stolarz played 7 games 2 seasons ago in his NHL debut, but missed all of last season with a knee injury. This season, once recovering from the injury, has played 12 games behind Hart, with a 4-3 record and a 3.33 goals allowed average. Stolarz also has a shutout this season, as he shut down the Rangers earlier this year. Stolarz will likely get a lot more playing time in Edmonton, and a chance to prove himself as an NHL starter, if he can stay healthy.