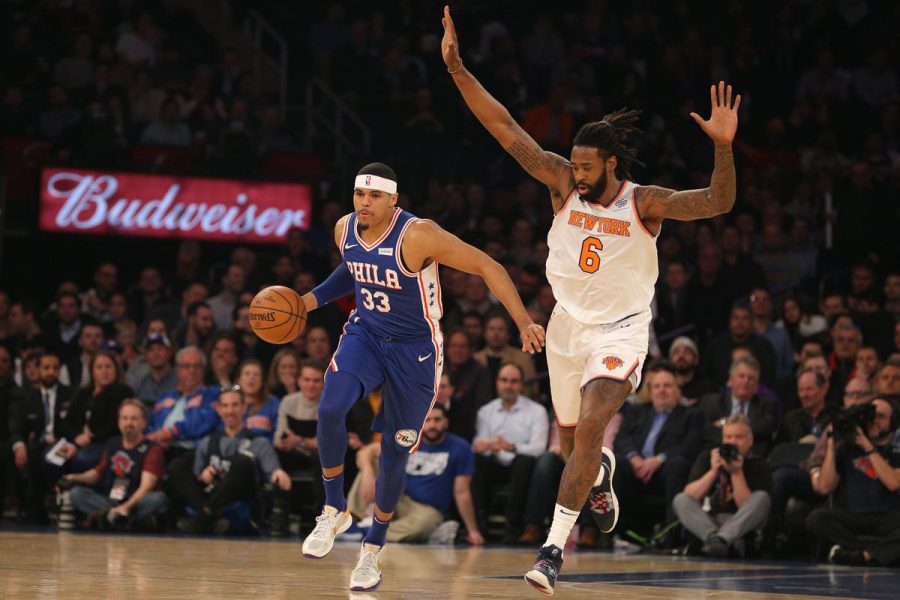 Sixers Hand New York 18th Straight Loss Going Into All-Star Break
The Sixers finally got what was practically a gift-wrapped win in their matchup with the New York Knicks, who own the worst record in the NBA, and lost 17 straight coming into Wednesday's matchup with Philadelphia. Coming off a brutal loss to Boston, the Sixers were looking for revenge.
The matchup with the Knicks is the final game for the Sixers before the All Star Break, ending one of the most brutal recent schedules among all NBA teams, as the Sixers have faced a playoff or fringe-playoff team in every game since January 17th. So a matchup with the worst team in the NBA to go into the All-Star Break is a great send-off for a team that's still trying to mesh all the new acquisitions with the old.
The first half of the game was borderline frustrating for the Sixers, as they just seemed to play in an unrefined manner. One minute they'd go on a 10-0 run and grab a big lead, the next minute it was a slim, 2 point Sixers lead. At the end of the half, the Sixers seemed to pull it together with a 71-55 lead going into halftime.
The 3rd quarter was arguably the most frustrating, as the Sixers continued to allow the Knicks to hang around, actually being outscored by New York 36-29 in the quarter. It was a flashback to several other occasions this season that the team has played below-average in the 2nd half. At the end of the day though, the Knicks are the Knicks, and the Sixers locked it down for the 126-111 win, handing New York their 18th consecutive loss.
Joel Embiid narrowly led the Sixers in scoring with 26 points, with Tobias Harris close behind with 25. Ben Simmons tallied 18 points, with 7 assists and 4 rebounds, but he looks like he needs this All-Star break desperately. He'll only get so much time off, however, as he and Embiid will represent Philadelphia in the All-Star game in Charlotte on Sunday.