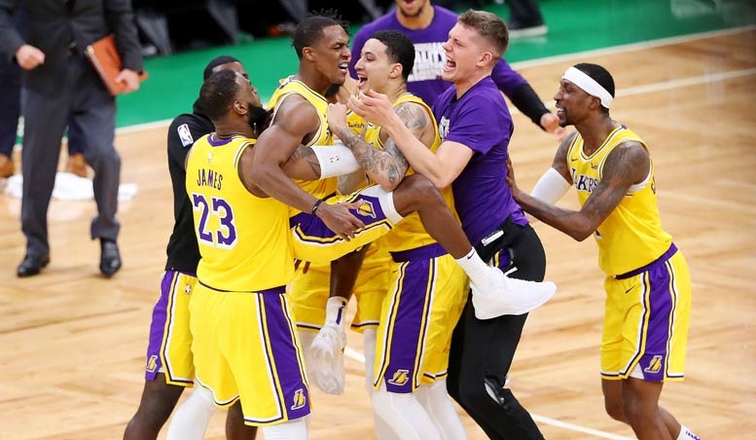 Rajon Rondo Lifts Lakers To A Win Over Boston
The Los Anglos Lakers have defeated the Boston Celtics by a score of 129 – 128, ending the game with a Rajon Rondo 2-point game winning shot.
The Lakers entered Thursday night's matchup at .500 on the season. With a competitive Western Conference, LeBron James and the Lakers knew they had a huge game with the Celtics.
It was an offensive showdown between the teams that came down to one single shot.
Boston came out strong with 66 first half points.
Kyrie Iriving led the way with 24 points, 8 assists, and 7 rebounds just coming short of a triple-double against his former teammate Lebron James.
James recorded yet another triple-double, even coming off a somewhat major injury in his groin. He totaled 28 points, 12  assists, and 12 rebounds.
In the 4th quarter, things began to heat up with under a minute to go. Kyrie Irving took control with 11.5 seconds, and got a nice layup to put Boston up 128-127.
The Lakers tried to set up LeBron,  but he was immediately hovered.
Rajon Rondo then decided to cough the ball up to Brandon Ingram whom then toom the ball to the rim and got stuffed. Fortunately for the Lake Show, the ball bounced, bounced, and bobbled all the way into Rondos' hands for the game winning gem.
The Lakers pick up a much needed win in Boston, as the Celtics let one get away from them in the Garden.