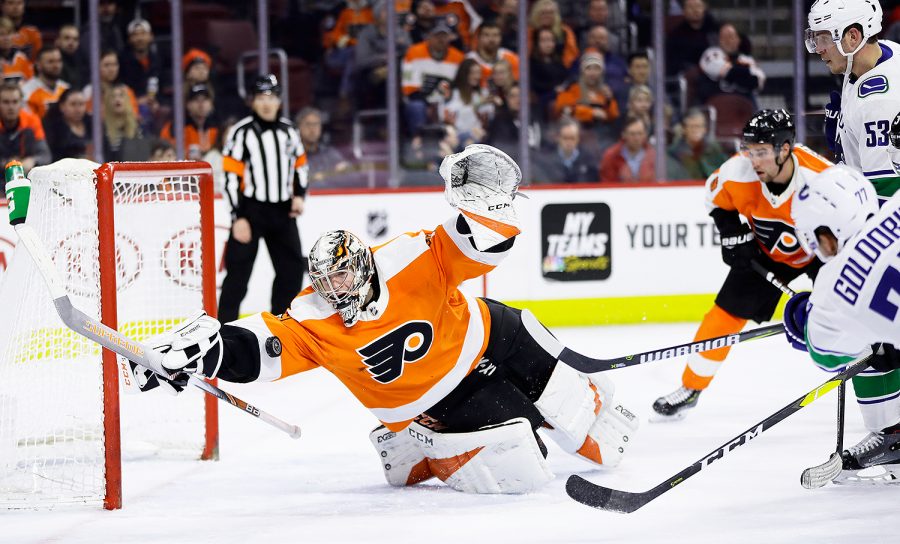 Flyers' Clinch Historic 2000th Franchise Win To Extend Streak
The Flyers' are continuing to make history in the unlikeliest of ways, in a season in which they were written off 3 months ago. On Monday night, the legend continued to grow, in more ways than one.
The Flyers came into Monday night against Vancouver on a 7-game win streak, facing a Canucks team with only a game advantage on the Flyers' in terms of records. Not surprisingly, the game was closely matched.
Flyers' Sean Couturier netted the 1st goal for Philadelphia, and the only goal in the 1st period, on what looked like a terrible power-play possession. The Flyers extended the lead to 2-0 in the 2nd, on a dazzling goal by Jakub Voracek. The Canucks countered with 1 of their own, on what may have been Carter Hart's first and only genuinely broken play.
Other than the 1 goal by Vancouver, Carter Hart was absolutely brilliant, as the phenom made 41 saves on 42 shots to give the Flyers the 2-1 win, their 8th straight win, and 2000th in franchise history.
The Flyers, with the win, clinched the franchise's 2000th win, making the Flyers the 2nd fastest team to the mark in NHL history.
The Flyers' win streak has reached 8 in a row, as they improve to 24-23-1. Less than a month ago, they were 15 points out of a playoff spot, now they only sit 5 points out. Is it still possible to turn a disaster season into a playoff run? It's a lot more likely than we thought it ever would be.