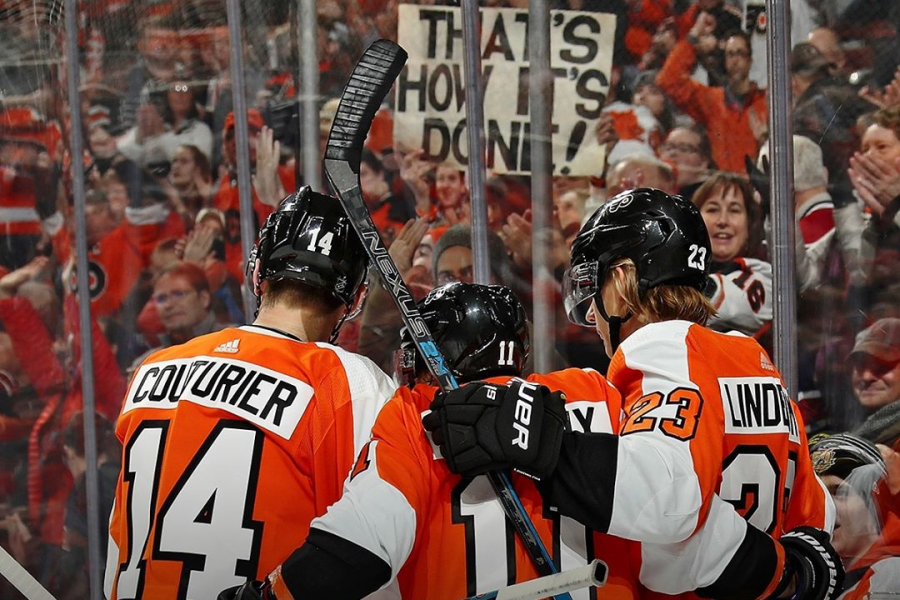 That's How It's Done: Flyers Win 7th In A Row
They're scorching hot right now, and with their 2nd overtime win in a row, the Flyers have extended the winning streak to 7 games. And it's safe to say we're as shocked as we are hyped about it, even if it's too late to save the season.
The Flyers came into Saturday's matchup with the Edmonton Oilers on a 6-game tear, while the Oilers have been an absolute disaster all season, with Connor McDavid as an exception. The game started off opposite of expected, as the Flyers dropped behind 2-1 at the end of the 1st period. By the end of the 2nd, the deficit remained the same, as the Flyers trailed 3-2.
The 3rd period started slow again, as the Oilers jumped to a 4-2 lead. However, just seconds later, Travis Konecny countered with a power-play goal to make it 4-3. After 7 minutes of back and forth play, Wayne Simmonds scored another power play goal to tie it, eventually sending the game into overtime for the 2nd game in a row. In the dying seconds of regulation, the Flyers blew a fantastic opportunity to win it, but Oilers' goalie Talbot displayed incredible skill to keep the Flyers at bay. For now.
The Flyers had the overtime magic in their last game, and they hoped for it again to complete the comeback. Nolan Patrick took it upon himself, after missing the potential game-winner in regulation, to end it in overtime. He did just that, netting the overtime winner to lift the Flyers to their 7th win in a row.
The Flyers have reached 23-23-6 on the season, and they take on the Vancouver Canucks on Monday.