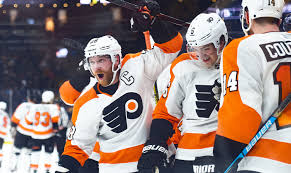 Flyers Turning Heads With 6-Game Hot Streak
If you had told me a month ago that the Flyers would go on a win streak of any kind this season, I'd have just dismissed it as wishful thinking. Yet here we are, talking about how Carter Hart and Anthony Stolarz seemed to have turned the team around in a sudden and unexpected fashion.
The Flyers took the most recent game against the Bruins, and coming into Thursday's matchup with the bitter rivals on a 5-game win streak, the Flyers had reason to believe they could take down Boston again. They were right.
The game was a back-and-forth battle, as the Bruins jumped out to the early 1-0, the Flyers countered with a Claude Giroux breakaway goal before the end of the period to tie it at 1 after the 1st. In the 2nd, Boston scored again, while the Flyers were held scoreless. In the 3rd, however, Oskar Lindblom flipped the script and tied it at 2, while Hart kept the Bruins off the board to send it to overtime.
The Flyers wasted little time in overtime, aided by a power play early on. Travis Sanheim capitalized on opportunity, and scored the game-winner as the power play clock expired, giving the Flyers their 6th straight win, stunning Boston on their home ice.
The Flyers will look to make it 7 in a row and get back to .500 as they take on the dysfunctional Edmonton Oilers on Saturday.