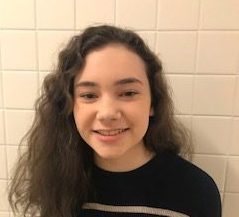 I go to dance for one to three hours during the week for three nights, sometimes four. I take naps to recover from being sleep deprived, and then I do my homework. I am struggling with back pain right now, because I finished dancing for two hours in a row and from doing abs. 
But I like being able to express myself and feel great when I am dancing. One dance that I really liked doing was called "Wonder", a modern piece, because I could express myself in a different way than I could with any other dance piece. I joined company because I wanted to just try all the different styles of dance they offered and get involved. My favorite dance is tap because I can dance to the rhythms and create different sounds.
My goals when I get older are to become a dance physical therapist because I really love dancing, but I also want to help people, especially in the dance world. 
-by Casey Parke