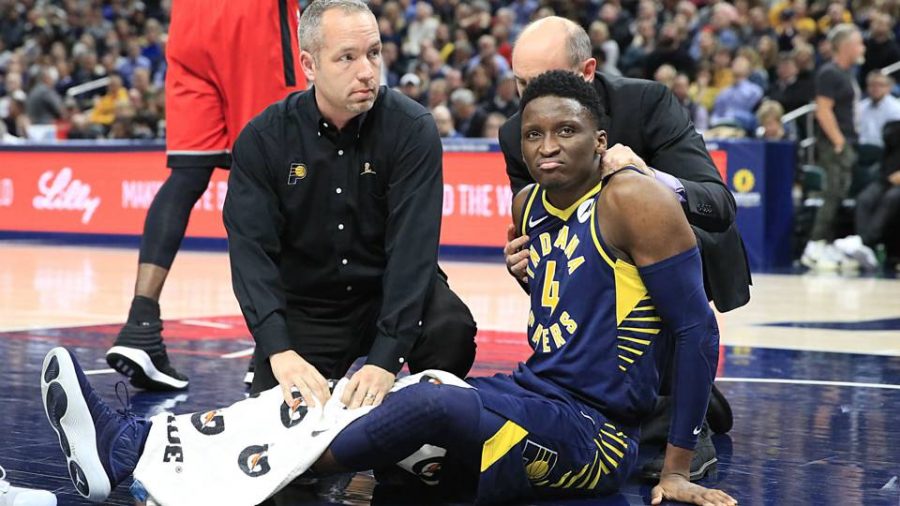 Oladipo to Have Season-Ending Surgery on Right Knee
Pacers Star Diagnosed With Ruptured Quad Tendon
Indiana Pacers star Victor Oladipo has suffered a ruptured quad tendon in his right knee and will need season-ending surgery, the team announced today.
Oladipo was injured during the second quarter of Wednesday's game as he was racing back to defend a transition break. He collapsed as he closed on Raptors forward Pascal Siakam.
The severity was evident almost immediately as trainers draped a towel over the leg and players from both teams surrounded Oladipo while he was down. No replays were shown on the video screen that stretches from free-throw line to free-throw line, and fans began chanting Oladipo's name.
The Pacers went on to eventually win the game, 110-106, over the Toronto Raptors.
Coach Nate McMillan said he was unsure when Oladipo would have surgery or whether he would be ready for the start of next season.
"It's unfortunate. He's a special player and a special person," McMillan said Thursday. "It will be tough but we have to continue to move on."
McMillan said Tyreke Evans will replace Oladipo in the starting lineup and first-round draft pick Aaron Holiday will get more playing time off the bench. In addition, the Pacers intend to promote Edmond Sumner from the NBA G League to the playing roster.
They could still make a move before the Feb. 7 trade deadline.
"We will talk about that," McMillan said. "We will talk about where we go from here."
This season, Oladipo was averaging 18.8 points, 5.6 rebounds, 5.2 assists and 1.7 steals in 31.9 minutes. Entering last night's game, he had led the team in scoring 17 times this season — the most on the Pacers.