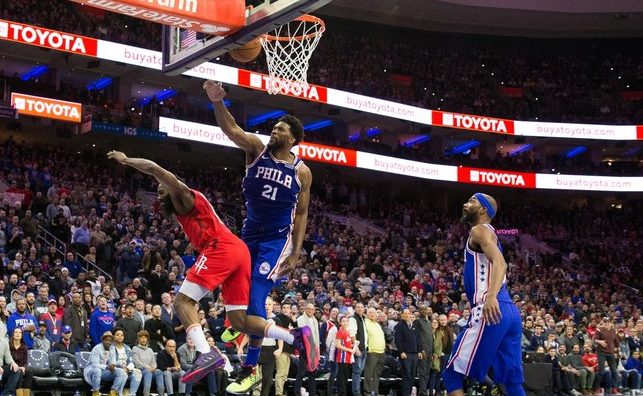 Brewer & Embiid Go Off As Sixers Dominate Rockets
The Sixers' difficult schedule proved itself with a heartbreaking loss to Oklahoma City on Saturday, but this Sixers team isn't one to stay down. With a national audience against the league's best scorer in James Harden of the Houston Rockets, the Sixers showed-out and bounced back, handing Houston a 121-93 loss, their worst loss of the season.
One thing nobody saw coming was the impact Corey Brewer would have on this Sixers team. The Sixers signed him to a 10-day contract, and Brewer has made it worth every penny with his play on Monday night. His main goal seemed to be a simple one: do anything and everything to annoy James Harden. And did it ever work. The Sixers held Harden to under 40 points, something few teams have been able to do. Brewer managed to incite frustration in Harden, getting him to foul on more than one occasion.
As usual, Embiid looked great yet again, coming up big with 32 points to lead the Sixers in scoring, while tallying a yet another double-double. His biggest play, however, was a brutal chasedown block on Harden, sending both to the boards, and ending with a vicious staredown. We should've seen it coming, after Embiid entered the stadium in all-gold Gucci attire.
The Sixers have made some major statements 3 games into this brutal stretch, and they look to continue dominating as they host the Spurs on Wednesday night. The Sixers improve to 31-17, while the Rockets fall to 26-20.