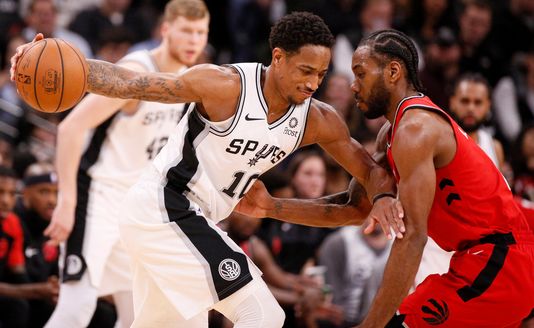 DeMar DeRozan Leads Spurs Over Former Team : Spoils Kawhi's Homecoming
As a 90-second tribute video played moments before tipoff, the tone for Thursday night's reunion of sorts between the Spurs and Raptors seemed to be set, underlining the intense (and intensely mixed) emotions that fans brought with them to one of the most anticipated games of the season. Every sight or mention of Kawhi Leonard, the man who willed his way out of San Antonio last year, was met with a rain of boos, broken up only by the applause that came with every shot by Danny Green, who was included in the trade that brought DeMar DeRozan to Toronto.
Green knew what to expect in a San Antonio welcome. "I'm going to hope one thing and predict another," he said when asked during morning shoot around.
It was a fervor that the AT&T Center crowd sustained throughout the night but, as has been a theme in the transformative early months of this season, seemed to shift into a singular, more positive direction as the game wore on. Leonard was still booed to the end, but fans were also reminded that there was still plenty to cheer for in the wake of last summer's teardown. With each extra pass to the open man, every DeRozan tear drop, LaMarcus Aldridge jumper, or Bryn Forbes three-pointer, the Spurs overwhelmed the league-leading visitors, and showcased a brand of mirthful basketball that continues to propel them up the Western Conference standings.
DeMar DeRozan keyed a 38-19 first quarter for San Antonio, putting up 9 points, 8 rebounds and 4 assists in just 9 minutes and laying the groundwork for a milestone he never reached north of the border: a triple double. He finished with 21 points, 14 rebounds and 11 assists.
The pass that cinched the feat was an assist to Aldridge off a pick and pop. The Spurs' big man had another hot-shooting night (10-of-14 from the field) en route to a team-high 23 points. Joined by Forbes (20 points), Derrick White (19) and Rudy Gay (13), the starting lineup combined for 96 points.
DeRozan's playmaking was already a strength coming into this season, but he's improved upon it in ways few could've expected.
Fun was likely the big takeaway for Spurs fans, as well — even those who'd come in with defaced Leonard jerseys and a focus on booing their lungs out. One star may have left them with months of pent-up emotions, but the man who replaced him is doing his best to keep the positive vibes flowing in San Antonio.