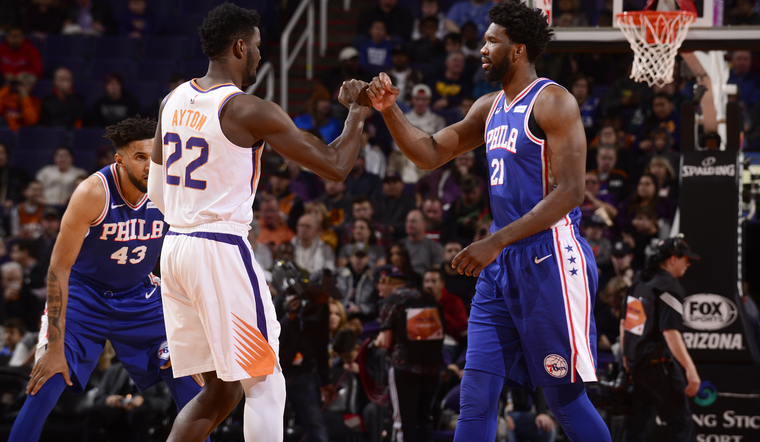 Embiid Goes Off Again; Saves Sixers From Another 4th Quarter Collapse
The Phoenix Suns' season has been nothing short of abysmal so far, to the tune of a 9-29 record coming into Wednesday's game against the 76ers. The Sixers, with a 24-14 record at tip-off, despite not having Jimmy Butler and Wilson Chandler available, were still obvious favorites. And that was the undoubted truth through the 1st half as the Sixers dominated yet again, leading 72-49 at halftime.
As the 3rd quarter progressed, the Sixers extended their lead all the way to 30, and it appeared it would be another laugher for the Sixers. But the Sixers once again saw their biggest weakness rear its ugly head again: a frustrating inability to effectively close out games. The Suns actually outscored the Sixers 38-32 in the 3rd quarter, but that somehow got even worse going into the 4th.
The Sixers' biggest weakness this season seems to consistently be a baffling inability to close out games. Stupid turnovers, lack of hustle, failure to capitalize on opportunities, blame it on what you want, the Sixers just can't seem to put their foot on opponent's throats. Sure, they keep winning, but allowing the 9-29 Suns to outscore them 40-28 in the 4th quarter is just unacceptable.
Despite the incredible onslaught by the Suns, the Sixers wouldn't let the Suns retake any kind of a lead in the 4th, and could finally let out a sigh of relief as they secured the 132-127 win to wrap up a 3-2, 10 day road trip. The win is largely in thanks to another MVP-caliber performance from Joel Embiid, who put up 42 points and 13 rebounds. Simmons and Redick had overlooked performances as well, as Simmons dropped 29 and Redick with 27. The Simmons/Redick/Embiid trio combined for 98 of the Sixers' 132 points. The Sixers then return home and are tasked with containing likely ROY Luka Doncic as they take on the Dallas Mavericks on Saturday.