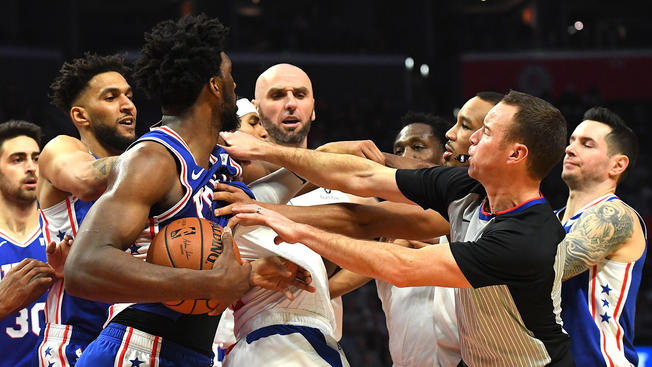 Sixers Get Heated Rebound Win In LA
While the Flyers may always be the "Broad Street Bullies," the Sixers seem to have earned the title more than the Flyers as of late as the Sixers won a chippy game in Los Angeles on Tuesday night.
The Sixers came into Tuesday night frustrated following a brutal loss to the Blazers on Sunday night, with Joel Embiid on the bench. With Joel Embiid back on the floor, the Sixers looked to have immediately regained their form, scoring a season high 76 points on the Clippers in the 1st half.
On paper, both teams were evenly matched going into the game, and the Sixers' pure domination in the 1st half seemed to get under the skin of some of the Clippers, notably Patrick Beverly and Avery Bradley. As the Sixers led by 12 a couple minutes into the 4th quarter, Beverly decided he'd had enough as he took out his frustration on Joel Embiid. Embiid, as expected, was not about to take it, as both players had to be separated and were issued technicals.
The fireworks didn't end there. Just minutes later, after Mike Muscala drilled a 3 pointer, and Jimmy Butler and Avery Bradley took exception to one another as they went for the rebound. There was little talk before it got physical, as one shoved the other, resulting in both Bradley and Butler being ejected from the game.
The intense nature of the 4th quarter seemed to light a fire under the Clippers, as they narrowed their 24 point deficit down to one possession with only a couple minutes left. In the final minute, the Sixers managed to regain a cushion, and Ben Simmons put the cap on the game with an inbound off the back of Sindarius Thornwell, slamming it down for 2 to put the exclamation point on a gritty, bounce-back 119-113 win. The Sixers improve to 24-14, and look to finish their west-coast road-trip with a win vs the dismal 9-29 Phoenix Suns on Wednesday night.