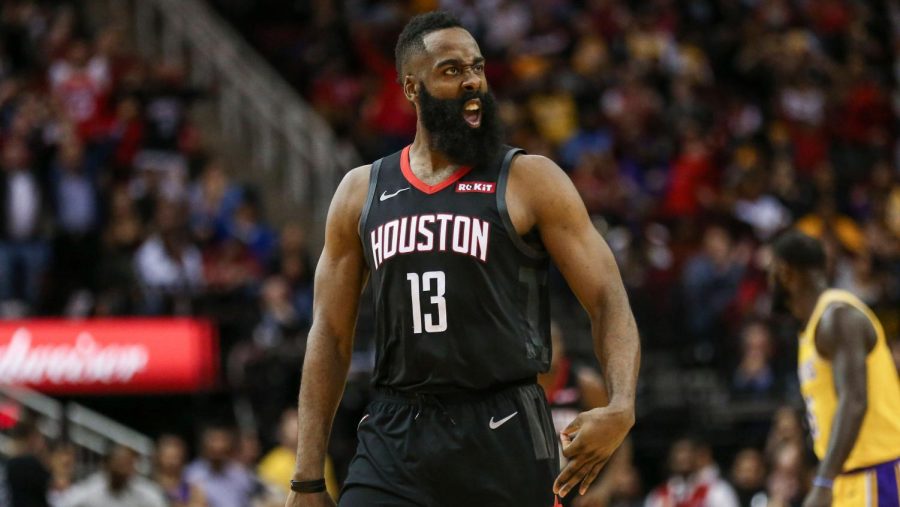 James Harden Records 50 Point Triple-Double, Lifts Rockets Over Lakers
James Harden's first bucket of the game gave his Houston Rockets teammates a feeling that this would be a spectacular performance for the reigning MVP.
After a couple of jab steps, Harden blew by Los Angeles Lakers guard Lonzo Ball, sliced down the lane and threw down a vicious, lefty tomahawk dunk over center JaVale McGee. Harden, who usually plays it cool by pretending to have a nosebleed after dunks, flexed with both arms and snarled.
"I was like, 'Wow!'" Rockets center Clint Capela said. "I've never seen James like that, especially flexing after a dunk. Is that a new James in front of me or what? I've never seen him like that in five years. That was something, and it sent a message to everybody."
This was a game the Rockets, off to a disappointing start on the heels of last season's trip to the Western Conference finals, desperately felt they needed to win. And Harden refused to let Houston lose, finishing with 50 points, 10 rebounds and 11 assists in the 126-111 victory Thursday night, making history by recording the fourth 50-point triple-double of his career.
Harden is one of only six players in NBA history to score 50 in a triple-double. This triple-double broke a tie with Oklahoma City's Russell Westbrook for the most such performances in NBA history. Wilt Chamberlain and Elgin Baylor had two each, and Kareem Abdul-Jabbar and Richie Guerin each hit the rare statistical milestone once.
The Rockets set several screens to make sure Harden had a chance to get to 50 on a floater in the final minute. The Rockets improved to 13-14 with the win.
"We're in a hole right now, and we've got to find a way to get out of this hole, and we will," said Harden, who recorded the 37th triple-double and 11th 50-point performance of his career. "Me and Chris are the leaders. We have to go out there and play well and put ourselves in position every single night. That's what we have on the line."
One of the Rockets' problems this season has been fizzling down the stretch of close games. That issue reared its ugly head over the weekend in Dallas, when Mavericks rookie star Luka Doncic went on a personal 11-0 run in crunch time to steal a win. Harden missed a pair of 3-pointers during that stretch, air-balling the second one, a sign of fatigue.
Harden asked coach Mike D'Antoni for a little more rest than he regularly gets in the fourth quarter Thursday night. He got a breather with 9:27 remaining and sat until the 4:57 mark.
"This is one of the first times ever that he said, 'Give me a couple of minutes,'" D'Antoni said. "That's great. I can kind of tell, but we need him fresh at the end, and if he can regulate himself a little bit like that it would help."
It paid off against the Lakers, as a refreshed Harden dominated down the stretch, scoring all of Houston's points during a 15-5 run to close the game.
Harden's flurry started when he made all three free throws after Josh Hart fouled him on a 3-pointer with 4:04 remaining. Harden hit a step-back shot from 30 feet on the Rockets' next possession. He swished another step-back from a few feet deeper on their next trip down the court, a shot that was essentially a dagger with 3:12 remaining, stretching the Rockets' lead to a dozen points.
"Once I came back in, I was ready to go," said Harden, who admitted that fatigue had been a factor for him late in some recent losses. "You play 46 minutes and 45 minutes, it's difficult for anybody in this league. The guys are so talented and great, so that little period that I had to rest, I came back in re-energized and ready to make big plays."
Harden was 14-of-26 from the floor, 4-of-12 from 3-point range and 18-of-19 from the free throw line. His number of free throw attempts was especially alarming to the Lakers.
The Rockets have had a disappointing season, and this win against a conference rival puts them in a position to turn their season around.