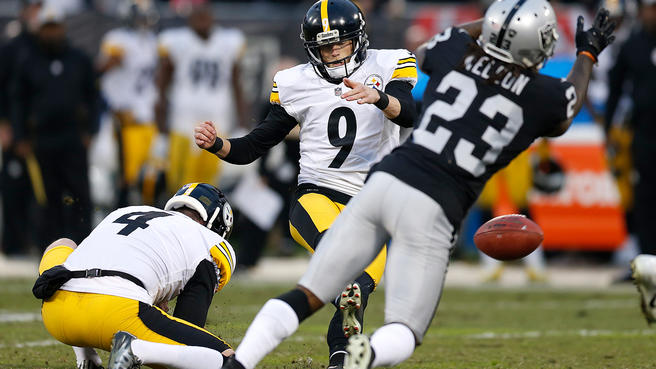 Boswell and The Steelers Slip Up in Oakland
Where do you even start with this one? The Steelers had lost back-to-back close games to the Broncos and Chargers in the previous weeks, but appeared to have a great matchup to turn things around against the 2-10 Oakland Raiders, who've traded away every asset of value for draft picks and a bag of chips. In fact, you could consider Sunday's matchup a must-win for the Steelers, as their lead in the AFC North has shrunk beyond comfort levels, and they have to face New England and New Orleans in the coming weeks. The Raiders had lost 7 of their last 8 coming into Sunday, facing a 7-4-1 Steelers team. Despite being down starting running back James Conner, all odds were on the Steelers snapping their skid.
The game started slow, as the Raiders held a 7-0 lead at the end of the first quarter. The Steelers finally woke up and countered with 2 TD in the 2nd, including an incredible touchdown reception by Juju Smith-Schuster. The Steelers went into the half leading 14-10. Both teams put up zeroes in the 3rd, but the 4th quarter would be intense. The Raiders landed a TD to take the lead early in the 4th, but the Steelers would counter late to take the lead. However, the Raiders weren't done yet, as Derek Carrier scored to take a 24-21, 3 point lead. The Steelers had one last chance to storm down the field and retake the lead, or at least tie. They would have to settle for a tie and go for the field goal. But Chris Boswell slipped on the attempt, and just like that, the Steelers are stunned 24-21, have lost 3 straight and fell to the worst team in football. Now their playoff situation is now getting even more difficult as the Ravens are hot on their tails.