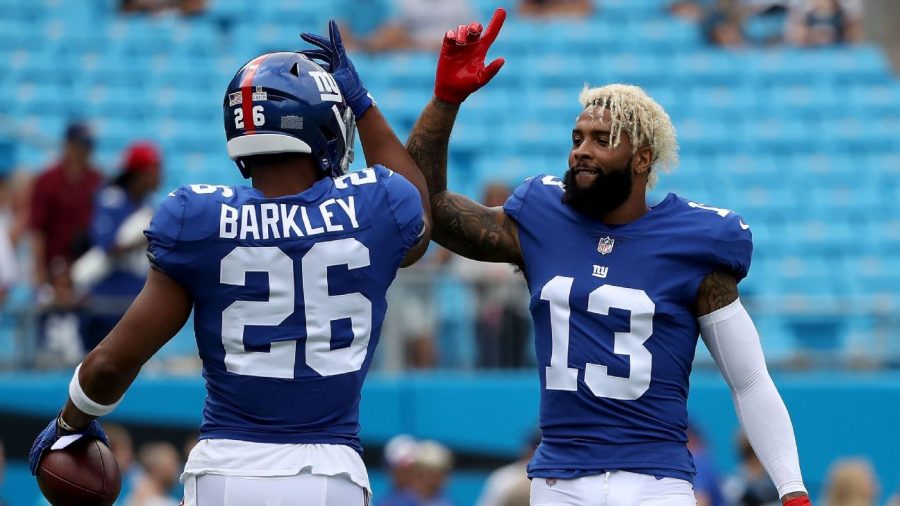 Why The NY Giants Need To Drop Eli Manning
The New York Giants have been an absolute mess the past two years with a combined record of 7-21 with three games to go. Although the Giants have been a huge disappointment the past two years, they have had several positive outcomes along side Quarterback, Eli Manning's, terrible play.
The Giants used their #2 overall pick in the 2018 draft to add an absolute freak of nature in Saquon Barkley. Barkley was clearly the best prospect in the draft and the Giants were lucky he fell into their hands for the next 10 years. Barkley has been a piece used in the backfield and in the passing game as his dual-threat play accumulated 954 rushing yards, 602 receiving yards, along with 12 total TD.
Back in 2014, The Giants used their #12 draft pick on Wide Receiver, Odell Beckham Jr. Odell has been famously known for his one-handed catch on Sunday Night Football against the division rival Cowboys. Beckham has been a key piece to Eli's stretched tenure in New York. He has added 5,476 receiving yards, along with 44 TD. Beckham has even shown more of his talent as he has tossed two TD this season, both over 40 yards. Long story short, Odell is a huge asset for the Giants to have tag along for his career.
The Giants also signed LT Nate Solder to a long-term contract for 62 million. He has shown why he is making that money as he has been one of the best, if not the best, in the NFL. The left side of the offensive line before this season was atrocious and now that hole is filled for the future.
Eli Manning is a two-time Super Bowl Champion. There is no taking away the fact Manning was a great quarterback as he defeated Tom Brady on the highest stage, twice. No doubt, Eli Manning should indented in Canton, but at 37 years old, Manning's time is running out.
Though Manning deserves to be praised, his stats have been worse than mediocre since Beckham entered the league. He has since then, thrown 65 interceptions averaging just over 15 interceptions a year. His touchdown stats have been decreasing year by year. His passing yards have stayed steady but you shouldn't throw for 400 yards and still lose.
Sitting at 4-8 on the season, the Giants are merely out of playoff contention. With another disappointing season, the Giants will most likely look a different way at quarterback, and they should.
With Barkley and Beckham young and talented, the Giants must take advantage of that and update at the position. Manning's slow, conservative type of play isn't the fast down-your-throat offense the Giants want to present. Also, Manning is moving anywhere, and is he is, not very quick. This allows defenders to install coverages to contain Barkley and Beckham making it harder to get them the ball.
The Giants have not ruled out bringing Manning back for another rodeo in 2019, but if they fall in the top 5 in the draft, don't rule out New York taking Dwayne Haskins, Justin Herbert, Drew Lock, or Will Grier.
The Giants have an interesting off-season coming up as they have the most important position to address in either the draft or trade.