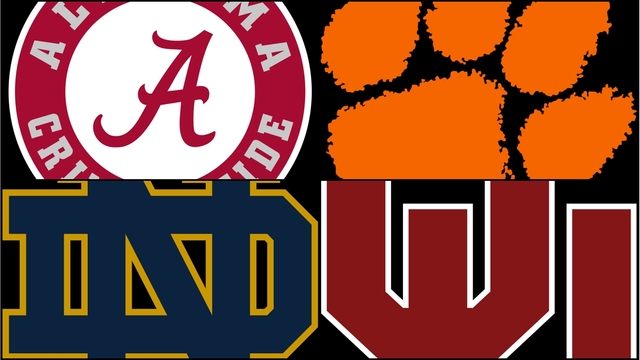 College Football Final Four Set
1.) Alabama Crimson Tide
The Crimson Tide finsihed their regular season on Saturday night with their stunning comeback with Jalen Hurtz. Georgia was dominating Alabama for most of the first half as Tua Tagovailoa struggled. Hurtz then entered and made a miraculous comeback winning 35-28.
2.) Clemson Tigers
The Tigers took care of business in their fourth stright ACC Championship win. They won in blowout fashion against Pittsburgh by a score of 42-10.
No surprise through the top two.
3.) Notre Dame Fighting Irish
The Irish didn't have a game this week as they ended their undefeated regular season at 12-0. They stay at 3 after not playing and nobody noticeably being better than them.
Makes sense through three.
4.) Oklahoma Sooners 
Here's where it gets interesting as there was discussion on who would swoop in for the final playoff spot. Georgia lost a heart-breaker against Alabama causing them to drop to 5th in the rankings. Ohio State was mentioned but they were ranked 6th in the rankings meaning the decision was between only Oklahoma and Georgia. The Sooners won their game resulting in their CFB Playoff birth.