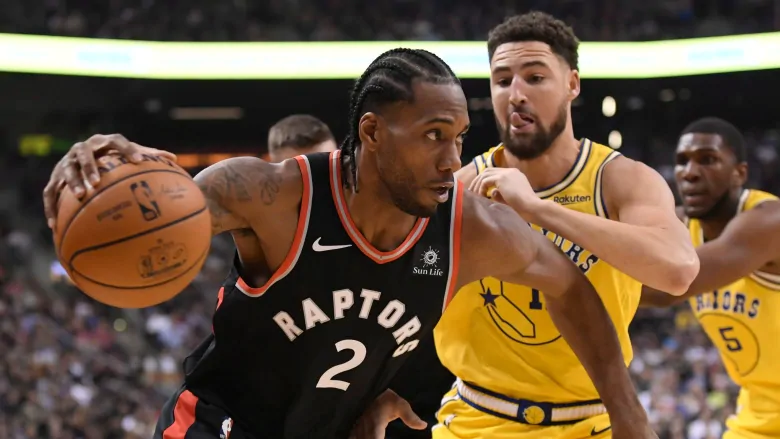 Raptors Escape Overtime : Defeat Warriors 131-128
Kawhi Leonard scored a season-high 37 points, Pascal Siakam added a career-high 26 and the Toronto Raptors overcame a 51-point performance from Kevin Durant to beat the Golden State Warrirors 131-128 in overtime on Thursday night, extending their winning streak to seven.
Kyle Lowry had 10 points and 12 assists, Serge Ibaka scored 20 points and Danny Green had 13 as the Raptors snapped an eight-game losing streak against Golden State and won a contest billed as a potential NBA Finals preview.
Toronto improved its league-leading record to 19-4, as Golden State dropped to 15-8.
Durant scored 40 or more in three straight for the first time, finishing with his highest total of the season. He also had 11 rebounds and six assists.
Klay Thompson scored 23 points and Jonas Jerebko had 16 of his 20 in the fourth quarter and overtime, but Golden State lost to Toronto for the first time since March 2014.
Lowry's 3-pointer with 55 seconds to go in the fourth quarter put the Raptors up 119-113 but Durant replied with back-to-back 3s of his own, including a game-tying shot with 8.6 seconds left.
Leonard drove and kicked to Ibaka on the final possession, but the Raptors big man couldn't get a shot off before the buzzer, sending the game to overtime.
It was a series of threes from Kevin Durant that truly gave the Warriors life. One three from deep, one to tie the game, and one in the fourth where KD shot a three over Lenord.
The Raptors firepower was too much for the efficient KD to handle all by himself.
Golden State was without star guard Stephen Curry, who sat for the 11th straight game because of a strained left groin. Curry is expected to return Saturday at Detroit.
The short-handed Warriors were also missing forwards Draymond Green (sprained right toe) and Alfonzo McKinnie (sore left foot), both of whom sat for the seventh straight game.