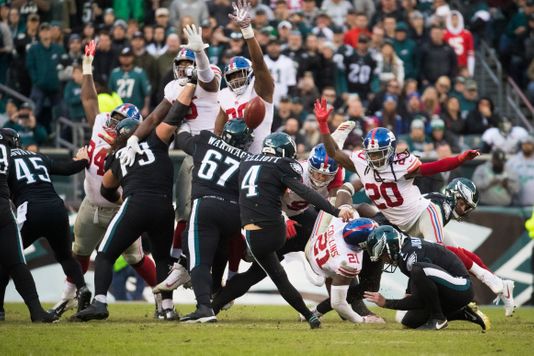 Eagles Save Season : Top Giants 25-22
The Philadelphia Eagles entered Sunday's divisional match up with a must-win mentality as they were 4-6 on the verge of losing playoff contention. The New York Giants came into the game with not much to lose and they gave it their all after winning their previous two games.
The Giants opened up the scoring in the 1st quarter with a 13 yard shuffle pass to Saquon Barkley. A penalty moved the ball to the 1 yard line for the giants and they decided two points was the best option, but was unsuccessful. The G-Men then added another 3 points with a field goal to end the scoring in the first quarter, and adding another 3 to begin the 2nd.
A big run from Corey Clement gave the Eagles a bunch of energy getting them into the redzone. Unfortunately, the Eagles couldn't take advantage and only could get away with 3 points to make it 12-3 late in the 2nd quarter.
Saquon Barkley took advantage of a banged up defense and ran his way to a 52 yard touchdown to take a 19-3 lead over the Eagles.The Eagles then answered with a touchdown to no other than Zach Ertz.
The Giants had a little over a minute left in the half to work with to put points up before the half. Eli Manning and the Giants worked their way up the field just to throw a interception in the redzone.
Giants lead 19-11 at the half.
The Eagles had a huge defensive stop forcing the Giants to punt right after the half. The Eagles later executed by adding another field goal to make it 19-14 Giants.
Early in the 4th quarter, Eagles RB, Josh Adams, took over the game as he ran for over 40 yards and a touchdown in one drive. Adams gave the Eagles the lead by one, with the Eagles converting for 2 points giving the Eagles a 22-19 advantage.
The Giants then again drove down the field but were stifled by the Eagles front seven resulting in a 29 yard field goal tying the game for the G-Men.
After the score, the Eagles took over possession with just under 6 minutes to go.
Carson Wentz began the drive with a play action dime to Alshon Jeffery for a big gain, and then converted on a huge 4th down to take the Eagles 26 yard line and kick the filed goal with 25 seconds left.
Merrill Reese yells "GOOOOOOOOOOOOOOOOOOOOOOOOOOD" and the Eagles move to 5-6 with still great position to win their division.