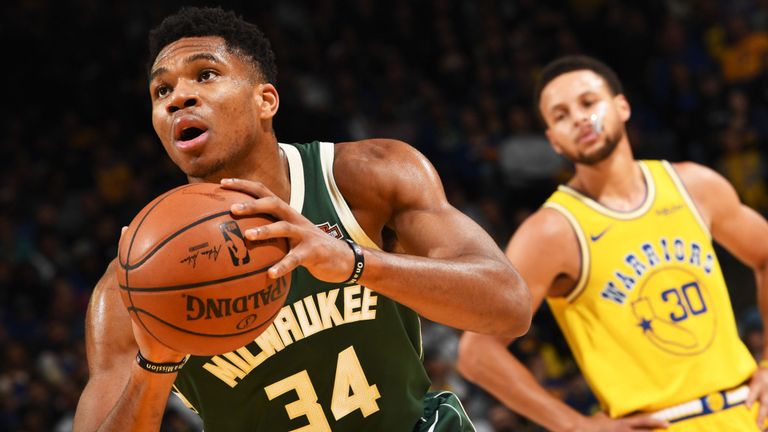 Warriors Lose Curry To Injury
Bucks Top Warriors 134-111
The Golden State Warriors lost more than the game during their 134-111 loss to the visiting Milwaukee Bucks on Thursday night at Oracle Arena.
Two-time NBA Most Valuable Player Stephen Curry departed the game in the third quarter and didn't return because of a strained adductor in his left leg.
"I'm not nervous. I have nothing to go off of. If this was an ankle, I could tell you four days, 12 days," Curry said, according to Marc J. Spears of ESPN's The Undefeated. "But I will see tomorrow. I've honestly never done this before, so I have nothing to go off of."
Golden State coach Steve Kerr said the All-Star guard will have an MRI on Friday.
Curry's injury took place as he tried to contest a shot by Eric Bledsoe of the Bucks. He remained in the game briefly before checking out and heading to the locker room.
With the results of the MRI being key, Golden State's Kevin Durant didn't seem overly concerned.
"He seemed good to me," Durant told reporters after the game. "I have to talk to him [Friday] to see how he's doing, but hopefully, he's doing well."
Curry shot only 5-of-14, scoring 10 points in 26 minutes in the blowout loss. It marked the first game in which Curry has played that he played 20 or more minutes and did not make a 3-point bucket since a Feb. 27, 2017 matchup against the Philadelphia 76ers, missing all four of his attempts from deep.
Golden State went into the game against Milwaukee without Draymond Green (toe sprain) and Shaun Livingston (sore foot).
Milwaukee (9-2) led 32-29 after one quarter and never looked back.
Giannis Antetokounmpo 24 points, nine rebounds, four assists, two steals and two blocks in 26 minutes for the Bucks, while Bledsoe led with 26 points and dished out six assists. Malcolm Brogdon had 20 points, while Khris Middleton had 17 points, three assists, six rebounds, three steals and a block.
Klay Thompson paced the Warriors (10-2) with 24 points.