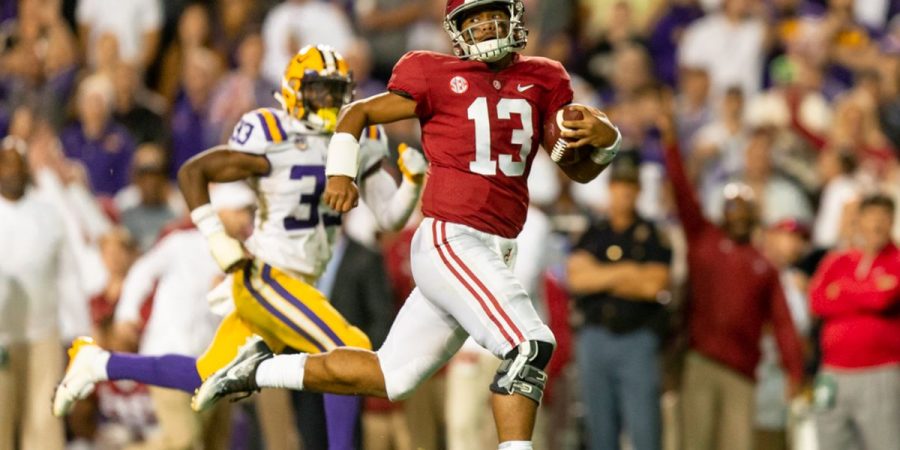 CFP: Who Will Be The Final Four?
Alabama (9-0): After winning 29-0 at LSU, the Tide are an easy pick for No. 1
Clemson (9-0): The Tigers looked impressive again in scoring 77 against Louisville
Notre Dame (9-0): As long as the Irish stay unbeaten, style points won't matter
Michigan (8-1): The Wolverines' defense continues to push people around
Georgia (8-1): The Bulldogs have clinched a meeting against Alabama in the SEC Championship Game, that may just give them a leg up for the playoff.
Oklahoma (8-1): The Sooners escaped Lubbock with a high-scoring win that keeps their playoff hopes alive
Washington State (8-1): The Cougars are the Pac-12's only Playoff hope, though the close win against Cal doesn't inspire much confidence
West Virginia (7-1): The Mountaineers got the 2-point conversion to stun Texas and remain in the hunt
Ohio State (8-1): A close win against Nebraska isn't the proof the Buckeyes need to make that they're going to be OK
LSU (7-2): It was always going to be a huge mountain to climb to beat Alabama. But Tigers can make a New Year's Six game
UCF (8-0): Even if UCF keeps winning, there might be a ceiling for how high the committee will rank it
Kentucky (7-2): A 10-2 season is still on the table
Mississippi State (6-3): The Bulldogs' defense now has to slow down Alabama
Syracuse (7-2): Like Kentucky, the Orange are a surprising team thinking about 10 wins
Florida (6-3): The ugly loss to Missouri might have cost Florida its chances of making a New Year's Six game
North Carolina State (6-2): NC State stopped the slid at two games and now has a manageable schedule
Boston College (7-2): The Eagles can cause chaos if they shock Clemson this week
Iowa State (5-3): Resurgent Baylor could play spoiler
Texas (6-3): The Longhorns are 1-2 since upsetting rival Oklahoma
Penn State (6-3): Penn State is struggling, but with so many other ranked teams losing, the Nittany Lions won't fall too far
Utah (6-3): The loss to the Sun Devils means Arizona State controls its destiny in the Pac-12 South
Fresno State (8-1): Fresno State is ready to pounce as a New Year's Six game contender should UCF stumble
Washington (7-3): After Oregon State, the Huskies get a huge Apple Cup against possibly top-10 Washington State
Michigan State (6-3): The Spartans can end Ohio State's CFP dreams with a win this week
Utah State (8-1): The Aggies are much higher in the AP and Coaches Polls. Will the CFP rankings show more respect this week?