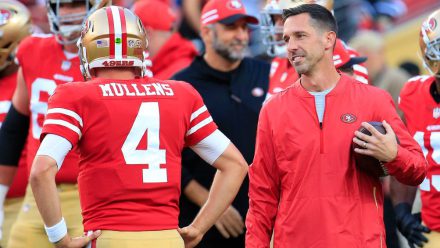 Nick Mullens Shreads Raiders: 49ers Win 34-3
In the hours before making his NFL debut, San Francisco 49ers quarterback Nick Mullens said he got a good night of rest.
"I slept good except I woke up about every hour," Mullens said, laughing. "But those hours were great. I slept pretty good."
If that qualifies as a good night of sleep, Mullens had to feel as if he were living out a dream Thursday night against the Oakland Raiders.
Mullens, a 2017 undrafted free agent out of Southern Miss, began the day by receiving a good luck text from fellow Golden Eagle Brett Favre. He ended by receiving a congratulatory call from Favre and approximately 600 congratulatory text messages from other friends and family.
Terrell Owens was presented his Hall of Fame ring during halftime of Thursday night's 49ers-Raiders game and stood by his decision to skip the induction ceremony in Canton earlier this year.
In between, Mullens put together one of the greatest statistical performances by a quarterback making his debut in NFL history and led the 49ers to a convincing 34-3 victory against the Raiders.
Mullens, who replaced an injured C.J. Beathard as starter, was unfazed by his prime-time debut, calmly directing the Niners to touchdowns on the first two drives of his young career and going on to post the best passer rating by a quarterback in his first start since the merger in 1970.
"You never know until you see someone," 49ers coach Kyle Shanahan said. "He didn't surprise us in terms of, the game's not too big for Nick. He's very poised. He is always locked in. The guys, they respect him. He earned a lot of respect in the preseason, them watching him play. Both years, last year and this year. The way he handles himself in practice each week. He didn't really know for sure whether he was going to start today, until today, and just the way he handled the two days of long walk-throughs and stuff.
"He's a machine in there and I was happy for him."
With Mullens at the helm, the 49ers blew out the Raiders in what was the final "Battle of the Bay" before the Raiders relocate to Las Vegas.
By the time Mullens' first regular-season playing experience was done, he was 16-of-22 for 262 yards with three touchdowns and no interceptions for a passer rating of 151.9.
With each completed pass, Mullens seemed to reach another historic benchmark.
Things went so well for Mullens on Thursday night that his previously unverified Twitter account was granted a blue check mark — during the game.
All of that added up to the Niners' second win of the season in one of the biggest blowouts by a team with only one victory this late in the season in the Super Bowl era. The Niners' 31-point margin of victory is the second largest in that category.
The 49ers signed Mullens in 2017 as an undrafted free agent out of Southern Miss, where he was the most prolific quarterback in school history, surpassing Favre along the way and ultimately shattering Titans quarterback Austin Davis' records.
Before Thursday's game, Favre tweeted good luck to Mullens, which might have helped his case for verification, and sent a text message to Mullens that said, "No pressure, just be yourself."
Immediately after the game, Favre called Mullens.
"It was pretty cool, definitely an honor," Mullens said. "It's cool to see Southern Miss alumni stay in tune with the program and support each other. Definitely appreciative of that and definitely have the most respect for Brett. He just told me how proud of me he was."
In the days leading up to Thursday's game, Mullens prepared as though he would start, but the Niners held nothing but walk-throughs because of the short turnaround from Sunday's loss to Arizona.
With Beathard attempting to recover from his injury, the Niners weren't even sure who would start until things started trending in Mullens' direction Wednesday night. Shanahan informed Mullens of that decision but still put Beathard's injured right wrist and thumb through a pregame test Thursday to determine if he'd be available to back up Mullens.
All the while, Mullens was doing what his teammates say he always does, which is relentlessly prepare as if he's going to play. Mullens has earned a reputation for his dedication to the game, including an at-home ritual in which he downloads crowd noise, plays it as loud as he can in his headphones and practices calling out plays amid the ruckus.
"That was the best thing I've seen so far," tight end George Kittle said. "That's what he does. So he gets that, I know Coach Shanahan will record the calls for him and he will re-listen to them and he'll re-call them out. I'm pretty sure last year he was a guy who would take the script after the game and he'd go out on the field and run through the plays by himself. That's just Nick Mullens in a nutshell."
Cornerback Richard Sherman even ceded pregame speech duties to Mullens before his first start. Like everything else Mullens did Thursday night, that even got rave reviews.
"He did phenomenal," Sherman said. "That's what the team needed. In a situation like this, prime time, Thursday night, this guy's first start, the team needs to hear from him. He's going to lead us out there today. He's going to be the guy who gets us this win and he did everything right today. This is Nick Mullens' day today."
The 49ers don't play again until Nov. 12 on Monday Night Football against the Giants. Beathard should have plenty of time to recover by then. The question now is whether Mullens will get a chance at an encore performance of Nick at Night, something Shanahan wasn't immediately ready to answer after the game.
"We'll consider it," Shanahan said. "Definitely not thinking about that right now, but our whole team played very well. Nick definitely did. It was a very good all-around win. I was real happy for our guys. We've been through a lot here and we're not done. We're trying to get our way out of this. It's good to get a win today and hopefully it can lead to some others."
This win brings the 49ers up to 2-7 and drops the Raiders to 1-7, the worst record in the NFL.