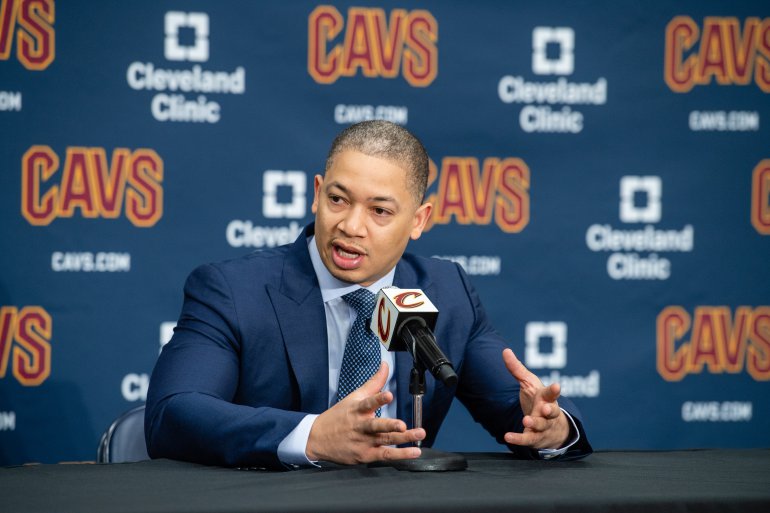 Tyronn Lue Fired
Cavaliers Fire Championship Winning Coach After 0-6 Start
Coach Tyronn Lue's opportunity to lead the post-LeBron James Cleveland Cavaliers lasted only six games.
The Cavaliers abruptly fired Lue on Sunday after an 0-6 start that left them as the only winless team in the Eastern Conference.
Lue, 41, has nearly two full seasons and the rest of this season remaining on the five-year, $35 million contract he received after the Cavaliers' title run in 2016.
"This was a very difficult decision," Cavaliers General Manager Koby Altman said in a statement. He continued: "We have respect and great admiration for Ty, not only as a coach, but a person. We thank him for the many ways he has contributed to our success, wish him the best and he will always be remembered for leading a very special Cavs team back against the odds to win the title in 2016.
"This is a different team equation, though, and one that we felt needed a different voice and approach that required this change."
Larry Drew, an associate head coach who has been with the team since 2014, has been named interim head coach.
The timing of the change stunned many around the league despite Cleveland's winless start, given that this team was widely expected to miss the playoffs after James elected to leave the Cavaliers in free agency — for the second time in his career — by signing with the Los Angeles Lakers.
In addition, Cleveland has played the past two games without Kevin Love, its lone remaining All-Star, because he has been sidelined with a foot injury. Love missed three of the Cavaliers' four exhibition games with the foot ailment and tried to play through the injury with mixed success when the regular season began.
Love quickly posted a picture with Lue via social media, thanking the coach for their time together, along with a caption that read, in part, "nothing but love and admiration."
James also sent a message on Twitter, thanking Lue for the partnership that a brought a championship in a major professional sport to Cleveland in 2016, after a 52-year drought.
Lue, one of only six active coaches to have won a championship, posted a regular-season record of 128-83 after taking over for David Blatt in January 2016.
Yet there have been news media reports in Cleveland in recent days about a philosophy clash between Lue and the Cavaliers management about whether to prioritize young players over veterans such as J.R. Smith and Kyle Korver.
Lue took a leave of absence in March that caused him to miss 10 games last season because of chest pains and other health-related concerns. But he returned in time to help steer the Cavaliers past the Indiana Pacers in a seven-game playoff series in the first round and ultimately led them to a fourth consecutive N.B.A. finals.
The Golden State Warriors swept the Cavaliers 4-0 in the championship series, but their comeback from a 3-1 deficit in the 2016 finals was a thrilling end to Cleveland's title drought.
The Cavaliers have not made the playoffs without James on their roster since 1998. They have not won a playoff series without James since 1993.
Lue is bound to get another head coaching job, but what will the Cavs do long-term?