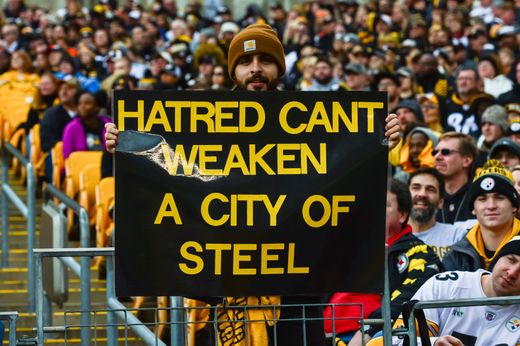 Pittsburgh Strong: Steelers Get Huge Division Win For a City In Mourning
Returning from their bye week, the Pittsburgh Steelers had more than a football game on their minds on Sunday as they took on the rival Cleveland Browns.
On Saturday morning, around 10:30, another act of senseless hate rocked the peaceful town of Squirrel Hill, just outside of center city Pittsburgh. At the Tree Of Life Synagogue in Squirrel Hill, a gunman entered the place of worship and promptly took 11 lives, while injuring several others, including police officers on the scene. Pittsburgh, a city famed for its diversity and tranquility, was shaken to the core, and several members of the Steelers expressed heartfelt condolences for the victims of such a horrendous act. DE Cam Heyward arrived in a shirt with "Pittsburgh" written over a heart. WR Ryan Switzer too made his feelings known, wearing a shirt with the the message "Love thy neighbor." They now had a chip on their shoulders, and all eyes were on them, to distract and comfort the city of Pittsburgh from the horrific acts.
With the moment of silence before the game began, the true surrealism of the situation set in. At Heinz Field, with the flag at half-mast to remind everyone of the events of the past 48 hours, the Steelers started off the game sluggishly, failing to manage a 1st down through the entire 1st quarter. However, the Steelers, like the city they represented, wouldn't stay down for long. The Steelers' defense, which has been abysmal all season, finally seemed to step up, as they stifled the Browns' rookie QB Baker Mayfield, including a timely interception by Steelers' CB Joe Haden.
Running back James Conner and wide receiver Antonio Brown led the offensive explosion, both scored 2 touchdowns as the Steelers would go on to knock off the Browns 33-18, a win the city and the team needed in the face of adversity.
After the game, emotions continued to run high as head coach Mike Tomlin, who lives in Squirrel Hill himself, addressed the media, saying, "Words cannot express how we feel as members of the community. I'm not going to make it about me or about us. We're just glad we are here to serve our community, if can in some small way." The city proved to support its new rallying cry, Pittsburgh is "Stronger than hate."