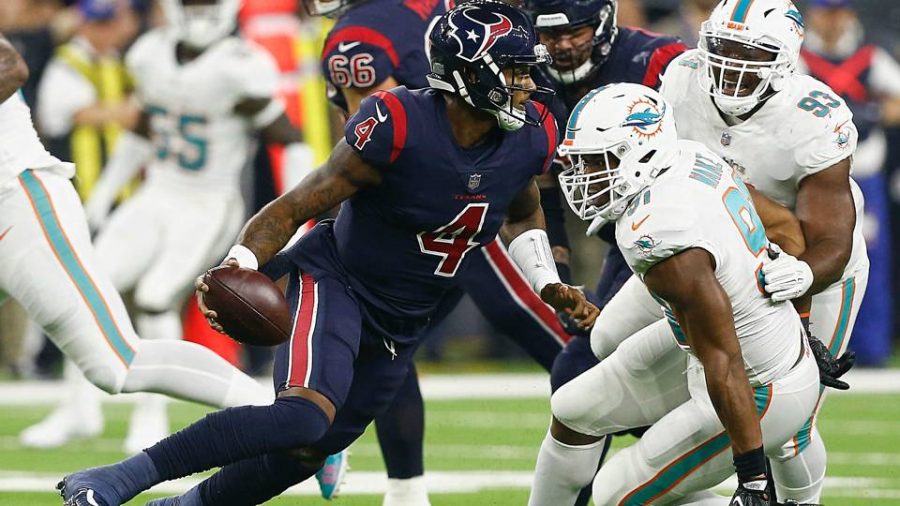 Texans Swim Past Dolphins
Deshaun Watson Tosses 5 TDs in Texans 5th Straight Win
In what turned out to be an unexpectedly entertaining Thursday night affair, the Houston Texans ran their winning streak to five — they started the season 0-3 — and increased their lead in the AFC South by beating the Miami Dolphins, 42-23.
Here are three things we learned:
Deshaun Watson is Just About All the Way Back:
Houston's quarterback hasn't quite lived up to Dabo Swinney's Michael Jordan comparisons in 2017 — and that was to be expected as Watson worked his way back from an ACL tear suffered last November while absorbing a constant beating this season behind a suspect offensive line. But Watson was in rare air against Miami, matching his career high with five touchdown passes — the best perhaps covering a mere 2 yards in the third quarter on fourth-and-goal when Watson extended a broken play before hitting Jordan Thomas on a throw to his right as he was drifting left. Watson finished with 239 yards and a 156.0 passer rating.
DeAndre Hopkins is Sick:
Perhaps it seems dubious to call an all-pro underappreciated, but it still seems like Hopkins gets third billing (at best) at the wide receiver position league-wide behind Antonio Brown and Julio Jones. But maybe continued exposure like he had Thursday will help Hopkins command the praise he deserves. He pulled in two of Watson's touchdowns, and some of his catches were of his typically (for Hopkins) remarkable variety. He also helped clear out Miami's secondary on Will Fuller V's 73-yard scoring bomb from Watson. Yet perhaps Hopkins' most remarkable play of the night was a one-handed, between the legs snatch he made that was ultimately negated by a dubious offensive pass interference call against him. (The officiating was mostly horrendous all night.)
The Dolphins' 3-0 Start is a Long-Ago Memory:
Miami had sewn some South Florida hope after a strong start to the season, though the quality of those early opponents raised red flags to keen observers. The team has now dropped four of five and is starting to have the look, once again, of an AFC also-ran. Brock Osweiler, making his third start in place of injured Ryan Tannehill (shoulder), is regressing to his usual mean, the offensive line continues to leak regularly, and the defense is getting riddled by big plays, scorched for 427 yards by the Texans. Coach Adam Gase has 10 days to help his team regroup — and maybe he found something to improve his, ahem, competence given the performance of WR DeVante Parker (6 catches, 134 yards) — but this team better get back on track quickly or else they're in store for a painful season.