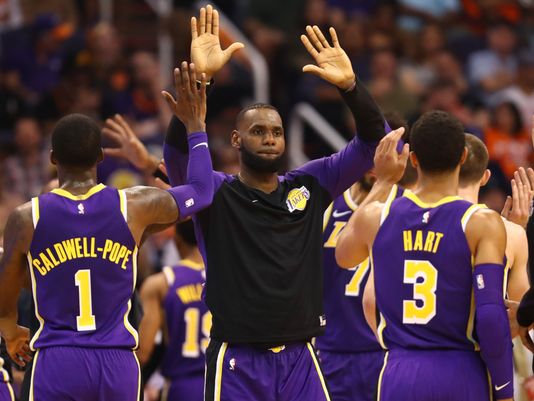 LeBron & the Lake Show Capture First Win
Lakers Steamroll Suns with 131-113 Win
It took longer than perhaps most expected, but LeBron James and the new-look Los Angeles Lakers are finally in the win column.
James scored 19 points to lead seven players in double figures, and the Lakers rolled past the Phoenix Suns 131-113 for their first win over the season. After dropping three straight to start the year, James did all of his damage in the first three quarters Wednesday night and watched from the bench as the reserves finished off the rout.
James added 10 assists, seven rebounds and three steals. He shot 7-of-16 from the field and did not turn the ball over. Lance Stephenson led the Lakers with 23 points. JaVale McGee added 20, Kyle Kuzma 17, Josh Hart 15, Kentavious Caldwell-Pope 14 and Lonzo Ball 12.
"It feels great," James said. "It's a win, period, but it feels good to know what we have been doing over training camp and these first few games to continue to get better."
Los Angeles hardly seemed to miss starters Rajon Rondo and Brandon Ingram, who began serving suspensions for their roles in the weekend brawl with the Houston Rockets.
The Lakers led 32-30 after the first quarter, then took control with a 44 points in the second. Up five midway through the quarter, the Lakers blew things open with a 17-2 run during which the Suns turned it over four times.
Los Angeles took a 76-54 lead into the break as the Suns turned it over eight times in the second quarter. Phoenix never got within 16 in the second half.
"That is what we will continue to harp on throughout the season is our defensive approach," James said. "How we approach the game, our physicality, our communication and that's what we did in the second quarter."
The Lakers take on the Denver Nuggets Thursday night in hopes to stay in the win column.