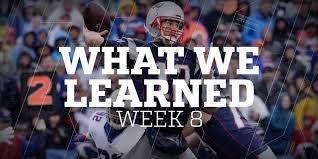 NFL Week 7 Takeaways
All of the Arizona Cardinals coaching staff should be fired.
Denver Broncos RB Phillip Lindsay is showing his worth.
The LA Chargers are quietly 5-2, and they don't show any signs of slowing up.
The Carolina Panthers fight through a tough win at home.
Carson Wentz is back. The injury hasn't, and won't affect the MVP-caliber QB.
The Detroit Lions may have a run game for once with Kerryon Johnson.
Brock Osweiler had another good game. Weird…
Tom Brady still runs the AFC.
Chicago Bears QB, Mitch Trubisky, is the real deal.
The Houston Texans have won 4 straight after beginning the season with 3 straight losses.
Blake Bortles needs to pack his bags.
Andrew Luck has quietly amassed 20 touchdowns this season. Luck is back.
The Vikings look like the Vikings we have been expecting.
Adam Thielen is now the best WR in the NFL right now.
Yet another OT loss for the Cleveland Browns. Does Hue Jackson know how to win?
The Tampa Bay Buccaneers are 3-3, but their roster says otherwise.
The LA Rams run the NFL until they lose.
The Washington Redskins are in 1st place in the NFC East and control their own destiny.
Ravens Kicker, Justin Tucker, was 222/222 on extra points until Sunday when he missed the game-tying extra point in the 4th quarter against the Saints. They ended up losing that game 24-23.
Pat Mahomes II is leading the MVP race.