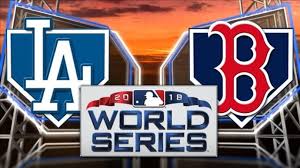 Let The Games Begin: World Series Game 1
Game 1 of the World Series will start Tuesday night in Boston, Massachusetts featuring the Los Angles Dodgers, and the Boston Red Sox.
The anticipation is at its highest as the best 2 teams in the MLB will fight out this championship contest. Two of the biggest MLB markets will be playing which can make the MLB's dreams of higher viewer rates sky rocket. The Boston Red Sox will host the first two games until the teams travel to LA for 3 straight games until they return to Boston if necessary.
The pitching match up will be the headline all day today and tomorrow as aces Chris Sale and Clayton Kershaw will take the bump for their respective teams. Both pitchers will be inducted into the Hall of Fame in the near future, but for now, they will be looking to capture a World Series Championship ring.
For the Los Angeles Dodgers, Manny Machado, Clayton Kershaw, & Yasiel Puig will be their most important contributing factors in this series. Machado can play anywhere Manager Dave Roberts needs him to be. As good as an outfielder Betts is, they may move him to second base for better hitting purposes. Kershaw can pitch like an ace of two days rest, and Yasiel Puig brings the most emotion to help get his team over the nerve-bug.
For the Boston Red Sox, Mookie Betts, Chris Sale, and J.D. Martinez will be key to Boston's success in this series. Mookie Betts is the long-term answer for the Boston Red Sox. If it wasn't for his injury early on in the season, he could very well be competing with Christian Yelich for the MVP trophy. Chris Sale is the star of the show for the Red Sox. The show as in that star studded bullpen the Sox maintain. J.D. Martinez is slugger. 43 home runs with a little under a .350 batting average? What else can ask from a 4th or 5th option coming into the season?
This series will be one for the ages as it could break records held by legends & Hall of Famers, it truly is worth the watch. My pick to win this series will be the Boston Red Sox.
Boston has been known throughout the league and most of their franchise existence that they have to win and be the best. Boston fans are relentless and I am sure with home field advantage that Boston can bring this championship back home in 5 or 6 games.
The Red Sox will look to capture their 9th league title, as the Dodgers look to take their 7th.