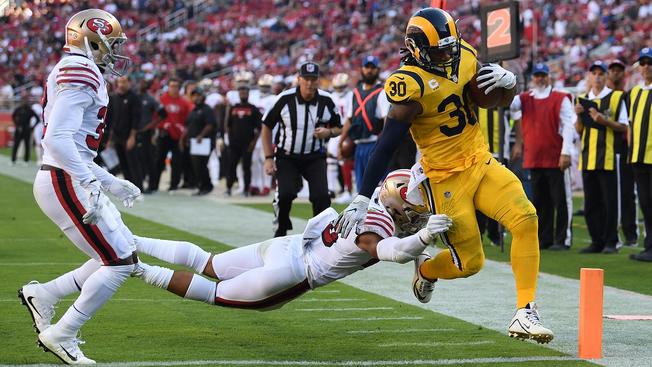 LA Rams Advance to 7-0; Can They Lose?
The LA Rams won a one-sided match up against the San Francisco 49ers by a score of  39-10.
Aaron Donald and a dominant defense kept taking the ball away for Los Angeles and Todd Gurley turned those turnovers into touchdowns to keep the Rams unbeaten after seven games.
Todd Gurley scored three touchdowns and Jared Goff threw two TD passes as the Rams took advantage of four takeaways and a blocked punt to defeat the San Francisco 49ers, 39-10, on Sunday for their first 7-0 start since 1985.
"With the offense we have to just keep feeding and feeding them ball," Donald said. "If we do that, they are going to put points on the board. Our offense is so explosive. We know that if we give them the ball good things are going to happen."
Donald and the defense made things easy for the Rams high-powered offense with seven sacks, two interceptions against C.J. Beathard and two fumble recoveries, including one that Donald just ripped out of Matt Breida's hands.
That was perhaps Donald's best play on a day full of great ones as he had a career-high four sacks, six tackles for loss, five quarterback hits, the forced fumble and fumble recovery.
"One of the best defensive performances I've been around," Goff said. "It seemed like every time we sat down we got back up and went on the field. … It was just a lot of fun to watch."
The Rams started 6-0 for three straight seasons from 1999-2001 only to lose game seven. The 49ers (1-6) made sure that wouldn't happen this year by repeatedly giving the ball away, justifying the decision the NFL made to flex this game out of prime time following the season-ending knee injury to San Francisco quarterback Jimmy Garoppolo.
"It's always embarrassing when you lose like that," coach Kyle Shanahan said. "We've got pride and we're also confident in what we do. We're not proud of our record right now. We're definitely not proud of today. When we played better, we still feel the same way. We're not into any moral victories here. We're as far away from one as we could have today. We have to fix the turnovers. Once we fix the turnovers, then we have a chance to start playing football."
The Rams dominated defensively even beyond Donald's performance. Cory Littleton having two sacks and a blocked punt for a safety ; and Troy Hill and John Johnson III also intercepted passes.
The turnovers set up 24 points for the Rams, who put up the big scoring day despite gaining a season-low 331 yards of offense.
Gurley scored on a 7-yard run in the second quarter after a fumble by Breida and 1-yard run after Johnson's interception in the third. He capped his fifth three-touchdown game of the past two seasons with a 12-yard catch after JoJo Natson had a 36-yard punt return to the 13.
Gurley's 14 TDs this season tie Priest Holmes (2002, '04) for the most through seven games in the Super Bowl era.
This brings me to the point of; Can the LA Rams lose to an NFL football team?
The closest game the Rams have had all season was a 23-20 win aginst the Denver Broncos. As close as that score was, the game didn't have that feeling as the Rams still walked out of Mile High with a road win.
The Rams toughest opponent this season was the Minnesota Vikings and they hung 38 points on the Vikings "star-studded defense".
The Rams plays conference games including the New Orleans Saints, Philadelphia Eagles, and the Chicago Bears.
Looking at the NFL, there are two teams that really stand out. One is in the NFC, and one is in the AFC. One is the Rams, and One is the Kansas City Chiefs. Luckily for us NFL fans, we get to see a what-could-be Super Bowl match up in mid-November.
The Rams are 7-0, and they don't look like they are losing anytime soon.