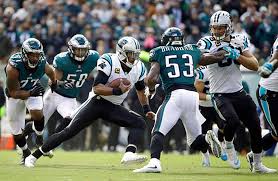 NFL.com
Eagles Blow 21 Point 4th Quarter Lead; Fall to 3-4
The Eagles looked well on their way to a comfortable victory over the Panthers on Sunday, leading 17-0 entering the fourth quarter. A win would put Philadelphia over .500 and give Doug Pederson and Co. first place in the NFC East.
Cam Newton had other ideas. The Panthers ripped off three consecutive touchdown drives beginning with a 14-yard touchdown run by Curtis Samuel with 10:41 to play, followed by a pair of touchdown tosses by the Carolina signal caller with 4:08 and 1:26 left in the fourth quarter. The latter touchdown to Greg Olsen from one yard out gave the Panthers a lead they would never relinquish.
Carson Wentz and the Eagles' offense had a chance to retake the lead late on the game's final drive. A 48-yard pass interference penalty on Carolina placed Philadelphia on the Carolina 22-yard line with over a minute to play, but the Eagles couldn't capitalize from there. Wentz nearly threw a pick to Eric Reid on first down, and three plays later a strip sack by Julius Peppers ended the afternoon.
The Eagles' post-Super Bowl season has been a far cry from the magical ride of 2017. The league's premier third-down offense last season went 3-12 on third down against Carolina, going 1-4 in the fourth quarter. All four of Philadelphia's losses in 2018 have come by one score.
What many assumed would be a cake walk to the NFC East title has become a dogfight, and the Eagles' road doesn't get much easier over the next few weeks. Philadelphia faces Jacksonville on Oct. 28, then faces the Cowboys and Saints. The Eagles offense will need to get its groove back quickly for Philadelphia to make a repeat bid come January.