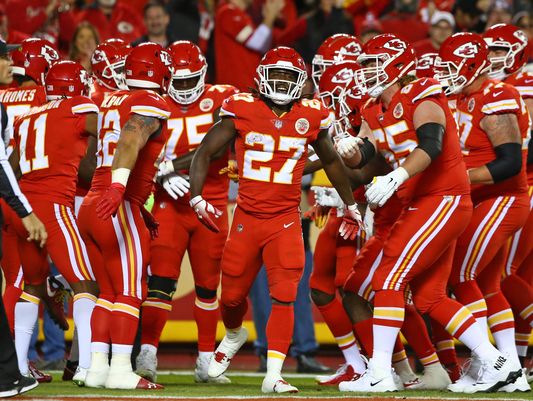 Chiefs Roll Over Bengals
The Chiefs looked like the AFC's best team on Sunday night, destroying the Bengals, 45-10. Both teams came into the game atop their respective divisions, and both teams would fall out of first place with a loss. Kansas City made sure the outcome was never in question, jumping out to a 14-0 lead, and stretching it to 24-7 at halftime before cruising through the final 30 minutes.
The Chiefs now head into Week 8 in first place in the AFC West, a game up on the upstart Chargers, who are 5-2 after beating the Titans in London on Sunday morning. But they're also the best team in the conference. And given how well this team plays at home, maintaining home-field advantage could be the difference between getting to the Super Bowl and having to go to Gillette Stadium and try to win in January.
For as good as Kansas City's offense has been all season, they're all but unstoppable at Arrowhead. Second-year quarterback Patrick Mahomes was clinical, and for the sixth consecutive game he's thrown for at least 300 yards. It started on the very first drive, when he drew the defender in before finding Kareem Hunt for an easy touchdown.
Mercifully, halftime gave the Bengals a respite, though only temporarily. Because Kansas City got the ball to start the third quarter, and seven plays and 75 yards later, they ended up exactly where you'd expect them: the end zone, courtesy of a two-yard run from Hunt. Mahomes threw another touchdown in the fourth quarter, giving the Chiefs at least 40 points in a game for the third time this season. (They've scored exactly 127 points in those three games. For an idea how amazing that is, the Cardinals have scored 92 points in seven games this season.)
If the Chiefs are the No. 1 seed heading into the playoffs, it's hard to imagine they're not headed to Atlanta. Yes, the Patriots were able to slow them up in Foxborough — where "slow them up" means they gave up 40 points. But it's hard to imagine any team coming into Kansas City and simultaneously containing Mahomes, Hunt, Tyreek Hill, Travis Kelce, Spencer Ware and Sammy Watkins. And don't forget, for as suspect as this defense has been, Justin Houston and Eric Berry are still working through injuries.
Not-so-Primetime Dalton continues.
Heading into Sunday night, the Bengals had won four straight against the Chiefs, dating back to 2008. In fact, Andy Dalton, who arrived in Cincinnati in 2011, has won both his games against Kansas City. It will probably come as no surprise to you that both those victories were day games.
In case that does surprise you, know this: Dalton is historically bad when the lights are brightest. After losing to the Chiefs, Dalton's record in games that start after 7 p.m. is now 6-15.