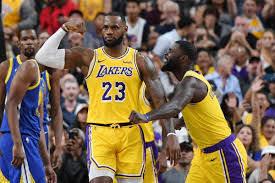 Three Takeaways from LeBron James' Debut with the Lakers
LeBron's Legs Look Fresh at 33
One day he will need a step ladder to dunk, but that day appears far off. On Thursday night, James made two dunks that deserve space in his purple-and-gold time capsule.
With the first, coming with 9:21 left in the first quarter, James scored his first official points as a Laker. On a dunk. Perfect, right? But lickety-split, Portland's Damian Lillard dashed downcourt and answered with a dunk of his own.
But James would not be upstaged. Back he went, hustling down court, getting the ball and slamming home another dunk with authority.
LeBron Can't be Happy About This
At one point, the Lakers were 0-for-15 from 3-point range. And James was 0-for-4.
The 3-point shooting appears to be a Lakers-borne disease.
Almost as soon as James joined the Lakers in July, skeptics questioned whether the Lakers had enough skilled shooters to optimize James. Last year the Lakers ranked 29th of 30 teams in 3-point shooting with a 28-percent rate.
Hard to win an NBA title these days without good 3-point shooters. See: Golden State Warriors.
Feel the Love, and the Hate
During pregame introductions, no one got booed louder than James. The boos weren't vicious, but they were loud. Maybe that's why he pointed toward fans behind the basket as he celebrated a first-quarter score.
He also was subjected to his first regular-seasons chants of "Beat L.A.! Beat L.A.!" (Bet it sounded pretty good when James was wearing a Cavaliers jersey.) For the record, the crowd booed in the final minutes when two fans wearing Lakers jerseys with Kobe Bryant's old numbers exited the arena.
But if James surveyed the arena, he would have seen something else — dozens of Lakers jerseys with No. 23 and "JAMES" on the back. In fact, late in the second quarter, a few fans in the rafters even broke into chants of, "Let's go Lakers."