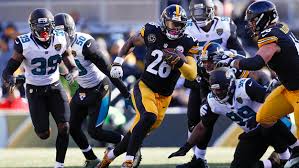 Le'Veon Bell to Philadelphia? What Could Go Wrong?
With pro bowl running back Jay Ajayi out for the season with a torn ACL, the Eagles are in need for a NO.1 running back as clearly Sproles, Clement, and Adams cannot carry the load Ajayi once did.
Hmmmmmm, I wonder what running back **Le'Veon Bell** could carry the load **Le'Veon Bell** by running the ball about 20 times a game **Le'Veon Bell** and even be a threat as an extra wide receiver! **LE'VEON BELL**
If you are asking me, Le'Veon Bell has the complete package for a running back. He can run it, catch it, spin, turn, juke, he can do it all. Bell has been one of the best or most dynamic players of this generation. When he plays, he makes a difference in both aspects of the offense.
Well, if he's so good, why isn't he playing and why is he up for trade?
MONEY!
Le'Veon Bell has expressed his frustrations with his contract with his current team, the Pittsburgh Steelers. Bell would like to make around 15 million a year with a signing bonus of about 10 million. Depending on the logistics of the contract, Bell would mostly want over 100 million guaranteed within the first 3 or 4 years which would ultimately put the Eagles over the cap by 10 million.
Good thing is: Howie Roseman is a financial freak and can make anything happen, he's done this before.
With the Eagles at 3-3, they look to be performing at a higher level then what they are now. With Bell, that might get them over the hill as their run game looks to get worse and worse each week.