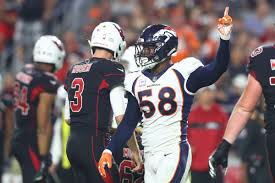 Broncos Snap Losing Streak: Win 45-10 with Dismantling of the Cardinals
The Denver Broncos and the Arizona Cardinals took the field Thursday night as both teams came into the game with a losing record, and both exited with one. Not a "supreme" football match up, but football is back! There's something to celebrate.
Rookie Quarterback Josh Rosen went threw three interceptions and fumbled the ball away twice on a rough night that began badly for him and never got better. He limped off the field after he was sacked for the fifth time, on a fourth-and-16 play near the end of the game.
The Cardinals (1-6), down 35-3 at the half, fell to 0-4 at home for the first time since 1979.
Case Keenum completed 14 of 21 passes for 161 yards and a touchdown with one interception for Denver. Phillip Lindsay rushed for 90 yards on 14 carries, including a 28-yard TD run.
Rosen had called a time out after the game's first play. Then his pass was deflected by the outstretched hand of defensive end Derek Wolfe. The ball dropped into the hands of Davis, who ran it in from there.
Arizona followed with a three-and-out and the Broncos quickly made it 14-0 with a six-play, 77-yard drive. Sanders took the ball on an end around and threw to a wide open Courtland Sutton 28 yards for the touchdown.
The receiver may have run the wrong route on Rosen's second "pick six." In a third-and-one situation from the Arizona 46, Rosen passed but there was no one near the ball except Harris, who returned it 53 yards to make it 21-3.
The Broncos made it 28-3 in the second quarter when Keenum found Harris wide open on a 64-yard TD play, the Denver receiver doing a front flip over the goal line.
A pass interference play against Bene Benwikere in the end zone set up Royce Freeman's one-yard TD run that made it 35-3 with 21 seconds left in the half. The run capped a 15-play, 70-yard drive that used up 6:39.
As the Cardinals move forward with a game to forget at 1-6, the Broncos look to flip their momentum and make a playoff run.