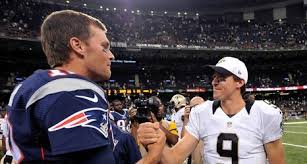 Is Drew Brees a Better Quarterback Than Tom Brady ?
       Drew Brees, an 11-time Pro Bowler, two-time NFL Offensive Player of the Year, and a one-time Super Bowl champion. And, after Monday night's 363-yard, three-touchdown performance against the Washington Redskins, Brees holds the all time record for passing yards in the NFL ever.

       In an era where quarterbacks determine if you win or lose, is Drew Brees the absolute best the NFL has to offer? Several fans around the world agree, but several would disagree. 

       The Saints have continually turned to Brees to carry their offense with a daunting and occasionally overeager passing attack — and the veteran has been happy to oblige. After Monday, he now owns league records for both passing yards and completions and ranks in the top five in both passing touchdowns and QB rating. Over the next two seasons, he and Brady will be competing to eclipse Peyton Manning when it comes to finding the end zone.

       When it comes to recognition, Brees' lack of regular season MVP awards leaves him lagging behind the cohort of Manning, Brady, and Favre. But he's still been the league's offensive player of the year twice, an award generally reserved for the guy MVP voters strongly considered before landing on someone slightly better. While Rodgers will probably surpass him and his records in the upcoming years, he's likely to hold onto his edge over Rivers, Roethlisberger, and Eli Manning (on top of beating out Hall of Famer Kurt Warner) when it comes to major accolades.
       Brees is a big-time talent whose gaudy numbers are often overlooked thanks to a sometimes underwhelming cast around him. The Saints, in their worst years, have been a defense-deficient team who relied on their veteran quarterback to carry them to shootout wins and wound up recording stat lines that look copied and pasted from a Texas Tech loss to Oklahoma. At their best, he's been the kind of quarterback who's led the league in completion percentage — something he's done four times, all in 11+ win seasons.
       In those prime years, Brees is the kind of player who turns late-round draftees, ignored prospects, and former basketball stars into game-breaking receivers downfield. For the past 13 years, he's been making the Saints better and slowly marching into the history books in the process. On Monday, he added another NFL record to add to his resume — and another key argument that he belongs in the Brady-Manning debate when it comes to the best quarterback of his generation.
       So the question each NFL fan should be asking is – Is Drew Brees a better Quarterback Than Tom Brady? 
       Looking at the stats and value to their respective teams, I would go with Drew Brees over Tom Brady. He has thrown for more yards than ANYONE! Not one person is better than throwing the rock than Brees and he has proved it year in and year out.