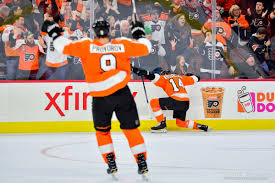 Simmonds and the Flyers Offense Torch Vegas for the Win
In the first game of the regular season for the Flyers, the offensive attack caught fire, allowing the Flyers to cruise to a 5-2 win over the Vegas Golden Knights on Thursday night.
Following a 2017-18 season riddled with injuries, Wayne Simmonds seemed to come back with vengeance on Thursday, scoring 2 of Philly's 5 goals on the night. Brian Elliot looked solid in goal as well, silencing goaltending concerns, at least for now, with 23 saves on 25 shots on goal.
The Flyers upcoming schedule following a big win in Vegas includes a game on October 6th, in Colorado vs the Avalanche, before the home opener in Philadelphia vs the San Jose Sharks, on October 9th.