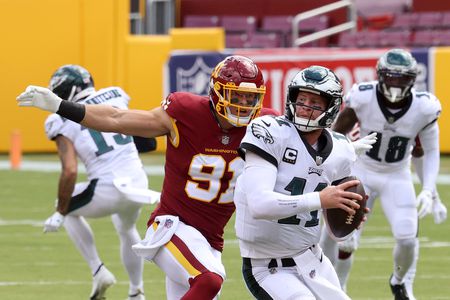 Game Recap: Eagles Lose in an Upset Lose Against the Washington Football Team
The first Sunday of professional football has come and gone, and boy did it feel good to have it back! There were lots of exciting moments throughout all the games played this week, as well as some unexpected upsets. Unfortunately, for the Philadelphia Eagles, they were one of those teams who got upset. And who were they upset by? Well none other than the Washington Football Team. In Philly's defense, they are already hampered with injuries, especially on the o-line, but that does not excuse the poor play that emitted from the team who blew a 17-0 lead. Washington has dealt with their fair share of injuries over the years as well, especially when Alex Smith broke his leg in 2018, so you could only imagine how many more games they could've won with him. This week though, Washington was ready, and overall in good health, and pulled off an outstanding win against the Eagles.
Quarter 1: Kicking off the game, Philly stops Washington's first drive, as they drive down the field, and Carson Wentz throws a pass to tight end, Zach Ertz, scoring their first touchdown. Washington holds the Eagles next drive to a 3rd & 22, but Wentz throws a bomb downfield connecting with rookie wide receiver, Jalen Reagor, for a massive gain. On another 3rd down, rookie defensive end, Chase Young, gets a hold of Wentz, and fellow defensive end, Jonathan Allen knocks the ball from Wentz's hands. Luckily, center Jason Kelce recovered the ball for Philly. Jake Elliott kicks a 38-yard field goal, and the Eagles lead 10-0.
Quarter 2: After a nice run by Dwayne Haskins, and a good gain by receiver Steven Sims, kicker Dustin Hopkins misses a 48-yard field goal kick, giving the Eagles good field position. From Washington's 40- yard line, Wentz airs the ball out to tight end Dallas Goedert, who beat out two defenders, who takes it in for the touchdown. Eagles lead 17-0. Rookie running back, Antonio Gibson, picks up a nice gain for Washington but their drive ends and Philly gets the ball back. Washington finally catches a break when cornerback, Fabian Moreau, intercepts a pass meant for Reagor. Washington takes advantage of this opportunity, and with some nice plays by guys like wide receiver, Terry McLaurin, Haskins throws a touchdown pass to a wide open tight end, Logan Thomas, giving Washington their first touchdown of the season. They now only trail by 10 points.
Quarter 3: Almost identical to his first throw that got interception, Carson Wentz throws another one, this time to cornerback Jimmy Moreland. Getting down to about the 2-yard line, Haskins hands off to running back, Peyton Barber who scores Washington's second touchdown, now only down 14-17. On 3rd down for Philly, Allen, Young, and Matt Ioannidis chase down Wentz, and Allen gets the 5th sack of the day on him. Elliott attempts a 53-yard field goal, but comes up just short of the goal posts. This now gives Washington great field position. Philly luckily gets the ball back and gets some yards with DeSean Jackson, but on a 4th down conversion attempt, Washington's d-line parts the sea for linebacker Jon Bostic to come flying through and sack Wentz.
Quarter 4: Hopkins drills a 38-yard field goal and its now all tied up at 17-17. Philly continues its downfall as Ryan Kerrigan gets Washington its 7th sack of the game. Haskins led the team down the field and Barber dives into the endzone for his second touchdown of the day. Washington now leads 24-17. Ertz drops a crucial 4th down pass and Washington gets the ball back with about four minutes left in the game. A 38-yard field goal kick puts Washington up 27-17. To finally put away the game, Young forces Wentz to fumble and Kerrigan recovers the ball. The Washington Football Team scored 27 unanswered points and won 27-17.
With an upset win over the Eagles, Washington now sits atop the division, 1-0. All the trash talking they have been enduring throughout the off-season has quieted down, and for the most part turned on the Eagles. Haskins struggled early during the 1st half of the game, but picked up in the 2nd throwing for a total of 178 yards, completing 17 of 31 passes, threw for a touchdown, and had no picks. Wentz ended with 270 passing yards, 24 completed passes of 42 attempts, and threw 2 touchdowns and 2 interceptions. Gibson lead Washington in rushing yards with 36, and Barber also had 29 to go with his 2 touchdowns. Boston Scott lead the Eagles with 35 rushing yards. A very lackluster performance by both teams rushing wise. McLaurin had 61 receiving yards for Washington, while Goedert had 101 for the Eagles. Probably the biggest stat for the game was Washington's d-line getting 8 sacks. Not to mention two forced fumbles. Also two interceptions for the secondary. Kerrigan, Allen, Payne, Young, Sweat, Ioannidis, and Bostic all had at least half a sack. Yep, this Washington defensive line is for real, as it has been hyped up to be. As we head into Week 2, let's see if Philly can rebound and keep the injuries to a minimum, and if Washington can continue to wreak havoc with their stacked d-line.