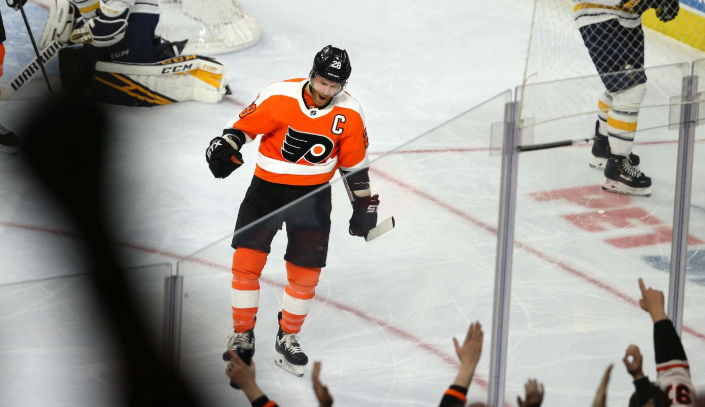 So Hot Right Now: Flyers Make It 9 In A Row
The thrilling momentum for the Flyers keeps on rolling as the team won their 9th consecutive game on Saturday with a 3-1 win over the Buffalo Sabres.
The Flyers continued to play as a team that heats up as the game goes on, as they engaged in a stalemate of a 1st period, with neither team scoring by the end of 20 minutes. The Flyers almost seemed outmatched in the 1st, as the Sabres out-shot them 13-4, but Carter Hart stood tall once again in-goal.
Philly finally started putting some shots on goal in the 2nd, and as a result, finally got on the board, as Claude Giroux netted his 20th goal of the year to make it 1-0 Flyers, 10 minutes into the 2nd. However, 7 minutes later, Dominik Kahun evened it up for Buffalo with a goal of his own to make it 1-1 to end the 2nd period.
Almost 10 minutes into the 3rd period, Claude Giroux stayed hot, scoring his 2nd goal of the day to break the tie and give the Flyers a 2-1 lead with 10 minutes to go. 5 minutes later, Joel Farabee capitalized on a blunder by Buffalo goalie Carter Hutton, scoring his 8th goal of the season to give the Flyers a 3-1 lead, which would stand as the final score.
Carter Hart was brilliant again in the start, making 38 saves and only allowing 1 goal as the Sabres poured on the shots-on-goal.
The Flyers remain locked with the Capitals in a tie for 1st in the Metropolitan Division at 89 points each, while the Penguins sit 5 points behind in 3rd. The Capitals play the Sabres Monday night, while the Flyers have a night off before taking on a tough matchup against the league-leading Boston Bruins.