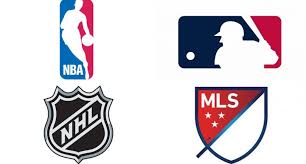 MLB, NHL, NBA, and MLS Close Doors To Media Amid Coronavirus Fears
The worldwide panic that the coronavirus has become has now entered the sports world with an official joint statement from 4 professional sports leagues on Monday afternoon.
The 4 leagues: Major League Baseball, the National Hockey League, the National Basketball Association, and Major League Soccer, all announced Monday that they will be prohibiting media access to locker rooms for practices and games for all teams in all 4 leagues. It's the first step in an attempt to prevent the coronavirus from threatening professional athletes in the US. Across the Atlantic, several European sports teams have already played in empty arenas, as fans have been prohibited from going to games. Obviously, the 4 active US leagues hope to avoid a similar situation, but that may too become a reality across the pro sports landscape in the near future. The NBA and NHL are quickly approaching playoffs in April and May, while the MLB is just getting started, as spring training continues and Opening Day looms in 2 weeks. The MLS is just a few weeks into play as well, making this announcement and future implications have potentially major impacts, especially given the playoff races in the NHL and NBA.
The media will still have access to teams, it will just be limited to designated areas. The objective is to limit the intermingling of the athletes and the public.
If the leagues do eventually have to close their doors to fans, it will be a rare, but not unheard of, situation. One of the most notable of these circumstances came 5 years ago, as the Baltimore Orioles and Chicago White Sox played at an empty Camden Yards in Baltimore on April 29th, 2015. The intense protests in the city of Baltimore at the time led to the closing of Camden Yards to the public, meaning the afternoon matchup was played in front of an audience of empty seats.
Hopefully the restrictions announced Monday will be the most strict crackdown necessary as the viral fear continues to rise.