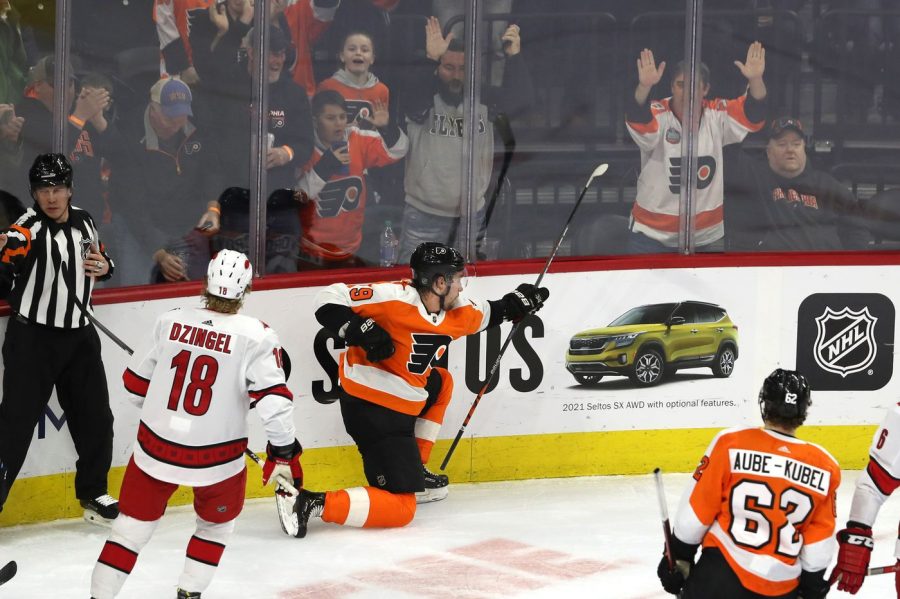 Crazy Eights: Flyers' Win Streak Continues
The Flyers keep getting hotter and hotter as their win streak reached 8 games on Thursday night with a dominant 4-1 win over the Carolina Hurricanes to move into a tie with the Washington Capitals for 1st place in the Metropolitan Division.
The first period of play was a back-and-forth stalemate for the most part for both teams. However, it was eventually the Hurricanes who blinked first, as Ivan Provorov opened the scoring with his 13th goal on the year to put the Flyers up 1-0 in the dying minutes of the 1st period. The 2nd period would follow a similar plot, although we didn't have to wait as long for a goal, as Michael Raffl put the Flyers up 2-0 with his 8th goal of the season, 9:34 into the 2nd period. All the while, Carter Hart kept the Hurricanes off the board for 2 periods. He eventually let up his only goal allowed, 3 minutes into the 3rd period, as Hurricanses' Justin Williams put the Hurricanes on the board. However, it would be the only goal Hart would allow for the rest of the night. 2 minutes after Carolina's lone goal, the Flyers' answered back with goals from Nicolas Aube-Kubel and Sean Couturier, within 30 seconds of each other, to make it 4-1 Flyers, which would stand as the final score.
Carter Hart had a strong game once again, allowing only 1 goal while making 28 saves, increasing his season save % to .911, and his record to 23-12.
The Flyers improve to 40-20-7 with 87 points on the season, good for a tie with the Washington Capitals, who lost to the Rangers on Thursday night, but the fact that it was an overtime loss still allowed them to gain a point and remain in a tie for 1st in the Metro. The Flyers will try to secure 1st place and a 9 game streak when they play the 29-30-8 Buffalo Sabres on Saturday, while the Capitals play the Penguins: a huge matchup of the T1st and 3rd place teams in the division.