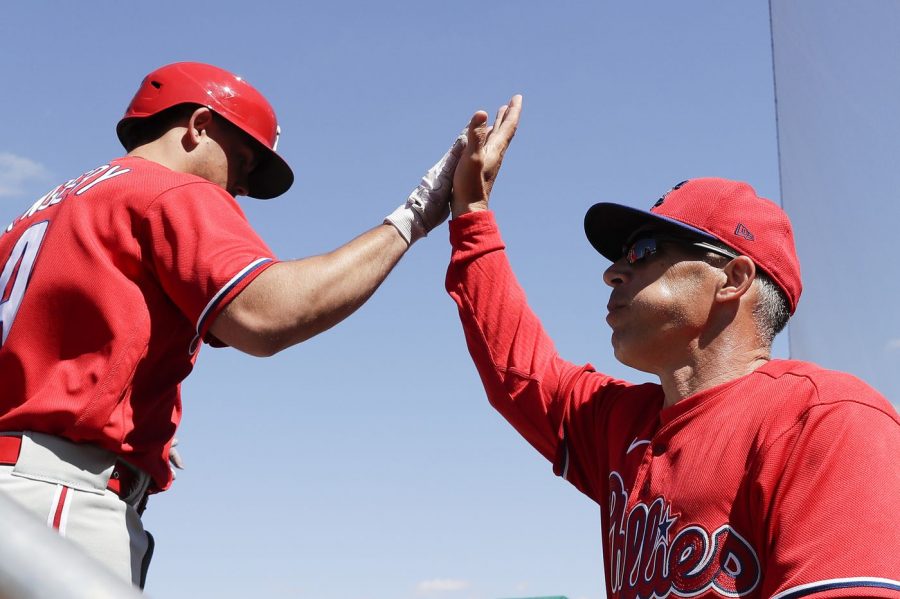 Phillies Spring Update: So Far, So Good
It's finally that time of year again as the Phillies' kicked off spring training games on February 22nd. After the first week of action, the Phillies have a 6-1-1 record, which doesn't mean much, but it's still a good sign. Here's the first look at the 2020 Phillies.
The first game on February 22nd vs the Tigers, the Phillies played a lot of familiar faces, and a lot of big prospects. From last year's big-league roster, Scott Kingery, Adam Haseley, Rhys Hoskins, and Nick Williams all got at-bats, while Nick Pivetta, Cole Irvin, and JD Hammer all saw action on the mound. Among the top prospects, Mickey Moniak and Alec Bohm headlined the future faces in the game. Bohm had a solid game at the plate after coming in as a pinch-hitter, going 2-3 with a run scored and an RBI. Nick Maton also made the most of his time, going 1-2 with 2 RBI. As far as pitching went, Nick Pivetta had a rough day as the starter, allowing 3 runs on 5 hits in 1.2 IP. Cole Irvin had a solid start to his spring, allowing 1 run on 2 hits over 2.0 IP. The Phillies and Tigers ended up tying the game 8-8.
Throughout the week the Phillies collected wins against the Pirates, Orioles, Twins, Red Sox, and Braves, while falling short to the Blue Jays.
The first win came on February 23rd, 4-3 against the Pirates. Aaron Nola made his first start of the spring and looked strong, keeping the Pirates scoreless through 2.0 IP, allowing 3 hits and getting a strikeout. The Phillies' bats jumped on Pirates' starter Trevor Williams to score all 4 runs of the game in the 1st inning. Jay Bruce contributed the most to the Phillies' offense, going 2 for 2 with 2 RBI and a run scored.
Other games throughout the week:
Monday: Phillies 8, Orioles 7
Player of the game:
Mikie Mahtook – 1 for 2, 3-run home-run
Pitching notables:
(SP) Vince Velasquez – 2.0 IP, 1 H, 0 R, 1 K, 1 BB
Ramon Rosso  – 2.0 IP, 1 H, 0 R, 2 K, 0 BB
Francisco Liriano – 1.0 IP, 0 H, 0 R, 0 K, 0 BB
Tuesday: (SS) Phillies 6, Blue Jays 13
Player of the game:
Jhailyn Ortiz – 1 for 1, grand slam (7th inning)
Pitching notables:
(SP) Jake Arrieta – 2.0 IP, 3 H, 3 R, 2 K, 1 BB
Jose Alvarez – 1.0 IP, 0 H, 0 R, 0 K, 0 BB
Tuesday: (SS) Phillies 6, Pirates 2
Player of the game:
Jose Gomez – 2 for 2, 3 RBI
Pitching notables:
(SP) Ranger Suarez – 2.0 IP, 2 H, 0 R, 1 K, 1 BB
Damon Jones: 2.0 IP, 0 H, 0 R, 3 K, 2 BB
Wednesday: Phillies 5, Twins 4
Player of the game:
Jean Segura – 2 for 3, 1 RBI
Pitching notables:
(SP) Zach Eflin – 2.0 IP, 0 H, 0 R, 0 K, 1 BB
Adam Morgan – 1.0 IP, 1 H, 0 R, 2 K, 0 BB
Trevor Kelley – 1.1 IP, 0 H, 0 R, 1 K, 0 BB
Thursday: Phillies 12, Red Sox 5
Players of the game:
Deivy Grullon – 2 for 3, HR, 2 R, 2 RBI
Scott Kingery – 1 for 2, 3-run HR
Pitching Notables:
(SP) Nick Pivetta – 2.2 IP, 1 H, 1 R, 5 K, 2 BB
Cole Irvin – 3.0 IP, 3 H, 3 R, 3 K, 0 BB
Friday: Phillies 6, Braves 5
Player of the game:
Bryce Harper – 1 for 2, 3 RBI, 1 R
Pitching Notables:
(SP) Aaron Nola – 2.0 IP, 6 H, 2 R