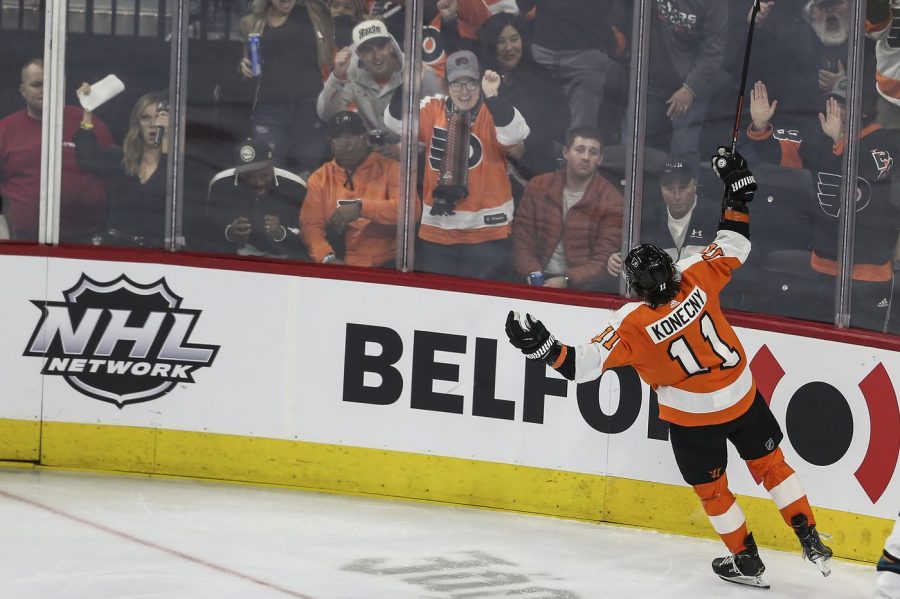 Flyers Putting On The Pressure After 4th Straight Win
It might finally be safe to have legitimate confidence in this team, for the first time in awhile. And it's a thrilling feeling. The Flyers' recent hot streak was most recently punctuated by Tuesday night's 4-2 win against the San Jose Sharks, moving them to within 1 point of the 2nd-place Penguins in the Metropolitan Division.
The Flyers got off to a hot start early, scoring 1:32 into the game on Nicolas Aube-Kubel's 6th goal of the season. However, the Sharks would answer back to tie it at 1 with a Joel Kellman goal.
The Flyers dominated the action in the 2nd period, as two of the Flyers' top scorers this year scored to give the Flyers a 3-1 advantage. Kevin Hayes scored the first, his 20th goal of the year, about 4 minutes into the period. Travis Konecny followed-up Hayes with his 22nd goal of the season about 6 minutes later. Carter Hart stopped 10 shots on goal in the period to keep San Jose off the board in the 2nd.
Kevin Hayes remained hot going into the 3rd period, scoring his 2nd goal of the night and 21st on the season to make it 4-1 Flyers 4 minutes into the final period. San Jose got one back on a goal by Noah Gregor to make it 4-2 Flyers on top, but San Jose couldn't generate enough of an offensive zone presence to fight back any more, giving the Flyers the 4-2 win.
Carter Hart has quietly cemented himself as an extremely dependable net-minder for the Flyers after coming back from his injury, and he continued the trend on Tuesday. He stopped 26 of the 28 shots on goal from San Jose, putting his season stats at a .909 save %, and a 2.51 goals allowed per game.
The Flyers improve to 36-20-7 with 79 points to put the pressure on the Penguins and Capitals in the Metro Division playoff race, who have 80 and 84 points respectively. The Flyers are getting hot at just the right time, as they've won 4 straight and 7 of their last 10. Their dominance at home has been notable too, as they haven't lost at the Wells Fargo Center since February 6th, and they hold a 22-5-4 record on home ice.
The Flyers have a handful of days off before hosting the Rangers, who sit at 7th in the Metro with a 34-24-4 record. The upcoming schedule for the Flyers is crucial: back to back games against the Rangers, followed by matchups with the Capitals and Hurricanes: all division rivals. They've looked borderline unstoppable lately, they'll need to keep it up for the next 2 months to keep pace in a tight playoff race.