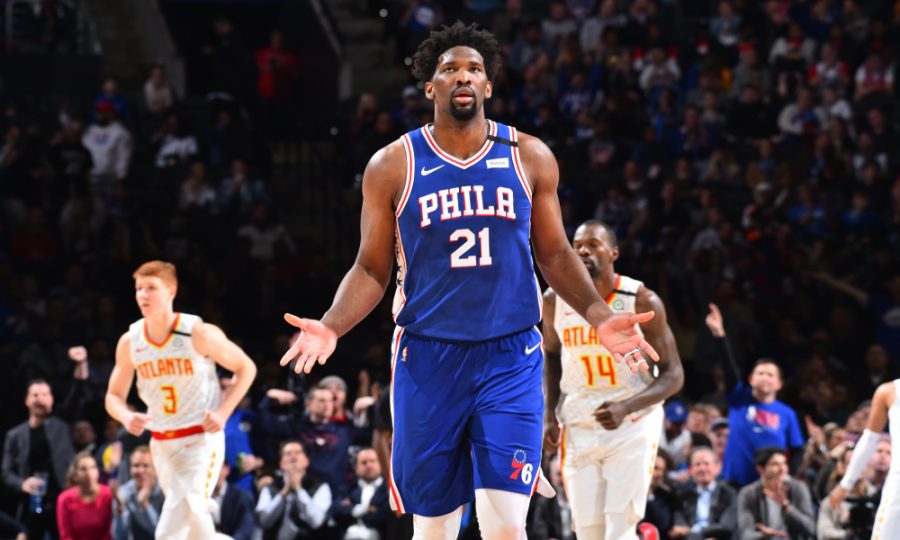 NBAE via Getty Images
Embiid's Career High Leads Sixers Past Hawks
In the absence of his co-star Ben Simmons yet again, Joel Embiid put the Sixers on his shoulders on Monday night as the Sixers beat the Atlanta Hawks 129-112.
After a brutal loss on the road to the Bucks on Saturday, the Sixers needed a bounce-back performance on Monday, but they'd have to find a way to do it without PG Ben Simmons, who's missed most of the last 3 games due to a lingering back issue.
Despite the loss of Simmons, the Sixers came out of the gates red hot, posting a 41-point 1st quarter to hold a 41-24 lead. In the 2nd, both teams scored 28, giving Philly a 69-52 halftime lead. However, the Hawks came out of halftime with some firepower themselves, as they blew past the Sixers, outscoring Philly 40-22 to suddenly take a 92-91 lead to end the 3rd quarter. The 3rd quarter collapse of the Sixers was, and to some degree still is, a point of concern for the team. Now, they would have to find a way to get the momentum back in the 4th. Thankfully, they did just that, as they outscored Atlanta 38-20 in the final frame to lock down the win, 129-112.
Joel Embiid had one of his most memorable performances of the year and his career, as he posted a career high 49 points in the win. This comes 2 games after his impressive 39-point effort in the Sixers' overtime win vs Brooklyn last week. His final line from Monday's game: 49 points, 14 rebounds, 3 assists, 3 steals, and 1 block. He went 1/3 from 3-point range, but that one 3-pointer was the bucket that finished off his night and got him his career high with 32 seconds left in the game.
It was a thrilling start and finish, book-ending a point of frustration with the 3rd quarter performance. But it's more fun to focus on the end result: An Embiid career high and another one in the win column.
The Sixers improve to 36-22 for 5th in the East, but thanks to a recent skid by the Miami Heat, the Sixers sit just 0.5 games behind them for 4th in the East. The Sixers' next game is a road match-up against the Cleveland Cavaliers. While the Cavaliers are having a brutal season at 16-41, it's a bigger game for the Sixers. They absolutely have to prove they can win on the road against what should be an easy opponent – regardless of whether or not Simmons is able to return for the game.