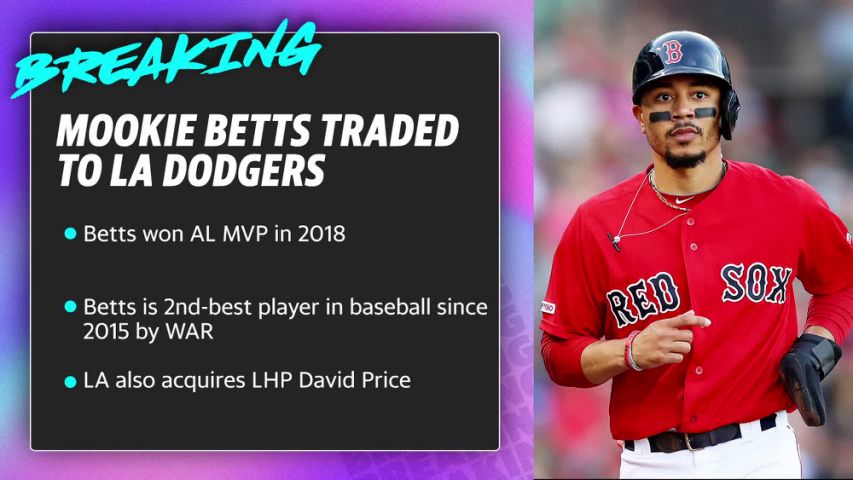 Dodgers Land Betts & Price In Blockbuster Deal
Just when you thought it was going to be a boring off-season of nothing but the Astros' scandals, the Dodgers made some major noise with multiple moves, headlined by acquiring Mookie Betts and David Price from the Red Sox just a little over a week before teams report for spring training.
The night's trade action involved 4 teams: the Boston Red Sox, the Los Angeles Dodgers, the Los Angeles Angels of Anaheim, and the Minnesota Twins. The trades all centered around pieces moved by the Dodgers, and they easily won the night. Here's a general overview of all the trades.
-Dodgers send RHP Kenta Maeda to the Twins for RHP Brusdar Graterol
-Dodgers trade OF Alex Verdugo & Brusdar Graterol to Red Sox for OF Mookie Betts, LHP David Price, and cash
-Dodgers trade OF Joc Pederson to Angels for INF Luis Rengifo
Now, what does each trade mean for the respective teams?
To get the ball rolling, the Dodgers first traded starting right-hander Kenta Maeda to the Minnesota Twins in exchange for the right-handed reliever Brusdar Graterol, who the Dodgers would then immediately flip to the Red Sox in the Betts & Price / Graterol & Verdugo trade. For the Twins, they get another veteran starting pitcher to plug into their rotation, which makes for a win-win situation for Maeda and the Twins. The Dodgers started using Maeda as a reliever last season, which was met with frustration from Maeda, who expressed a desire to be a starter and a starter only. He'll likely get a chance to be a starter again in Minnesota. The Twins' weakness has almost always been pitching, and now, with Maeda, their starting rotation is looking to be a solid group in the upcoming season, with the likes of Jose Berrios, Jake Odorizzi, Homer Bailey, Michael Pineda (after suspension), and others. A strong rotation is seemingly the final piece for Minnesota, who set a MLB record for home runs in a season in 2019. If their bats stay strong and rotation can take shape, they'll be competitive in the American League for sure. As for Brusdar Graterol, he'll be a piece of the future of Boston's bullpen going forward, a weak spot for the 2019 Red Sox. The team lacked a solid bullpen in the past season after losing Craig Kimbrel, and although they likely won't be competitive in 2020, the Red Sox now have something to build around. He's got an electric arm and a 4-pitch arsenal, relying mainly on a sharp sinker that he's thrown at 99 MPH almost 50% of the time in his limited MLB experience. Graterol appeared in 10 games for Minnesota in 2019 as a 20 year old, posting a 4.66 ERA in 9.2 innings pitched. He recorded 10 strikeouts and 2 walks in limited time in the majors, and he'll look to truly get a feel for the MLB with Boston in 2020.
In the most important part of the trades, the Dodgers traded Alex Verdugo and Brusdar Graterol to the Red Sox in exchange for Mookie Betts and David Price. The Dodgers get two proven pieces at the cost of two potential prospects, indicating a potential need for a rebuild in Boston, while LA is going all in in hopes of finally claiming a World Series trophy. It's important to note that Verdugo does have some MLB experience, but was not a top prospect for LA, they still get to keep their top prospects along with gaining Betts and Price. Betts adds an exceptional bat and outfield defense to the already potent Dodgers' lineup. Betts hit .295 in 2019 with 29 home runs with 80 RBI. In 6 years, he's been an All Star 4 times, was the MVP in 2018, won a World Series championship in 2018, won the Silver Slugger 3 times and a Gold Glove 4 times, batted .301 lifetime, and has hit 139 career home runs with 470 RBI. Along with Betts, David Price joins the Dodgers' rotation as he hopes to regain his Cy Young form after a career worst year in 2019, posting a 4.28 ERA in 107.1 IP across 22 starts. He has a career 3.31 ERA over 12 years with Tampa, Boston, Detroit, and Toronto. In the previous 4 years in Boston, he posted a 3.84 ERA with a 46-24 record in 1o3 games. The Dodgers' rotation is now led by a top 3 of veterans Clayton Kershaw and David Price to go along with the young star Walker Buehler.
With the addition of Mookie Betts, the Dodgers needed to open up a spot in the outfield, which led to the final piece to move as part of Tuesday's flurry of deals. The Dodgers opted to send Joc Pederson to the LA Angels in exchange for infielder Luis Rengifo. Pederson spent 6 seasons with the Dodgers, coming onto the scene in 2014. In 2015, he was named to his first and only All-Star game, while finishing 6th in Rookie of the Year voting. Although not necessarily being a standout player, he was generally regarded as a fan favorite. In 2019, he recorded his highest season batting average at .249, but that went along with a career high 36 home runs as well. For his career, he's batting .233 with 123 home runs and 287 RBI. Now, the Angels will add Pederson to a suddenly strong lineup, including Mike Trout, Anthony Rendon, Shohei Ohtani, Tommy La Stella, and more. As for the Dodgers, they get a promising piece in Luis Rengifo. As a 22 year old, 2019 was his first full season in the MLB for the Angels, as he split time at 2nd base and shortstop across 108 games. He put together a nice rookie season at the plate too, batting .253 with 85 hits, 7 home runs, and 33 RBI. He'll be a strong young piece in the infield for the Dodgers and a reliable bat in the lineup, a solid return for Pederson in the trade.
It's an intriguing set of deals to shake-up the MLB scene just a week before spring training, we'll see how each player impacts their respective clubs in the upcoming season and beyond.