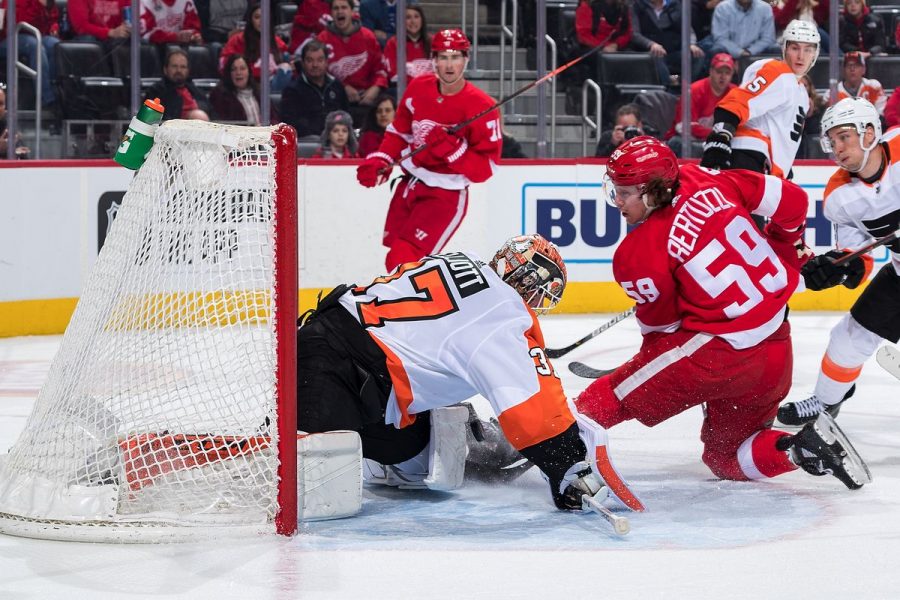 Brian Elliot blanks 'em again as Flyers beat Red Wings
The Flyers' came into Monday's game in Detroit following a dominant 6-3 win over the Colorado Avalanche on Saturday, after dropping a tough overtime game against Pittsburgh on Friday. The offense took a period to wake up, but Brian Elliot took center stage, recording his 2nd shutout in 4 games and the 40th shutout of his career as the Flyers beat the Red Wings in Detroit 3-0.
Scott Laughton got the Flyers on the board first with his 9th goal of the season, assisted by Michael Raffl and Robert Hagg. Laughton's goal would be the only scoring in the 2nd period. However, the Flyers would continue to tack on in the 3rd, as Kevin Hayes came away with a shorthanded breakaway goal. He's made his presence felt in situations like this before, and Monday's goal makes for 17 on the year for Hayes. Matt Niskanen capitalized on the empty net opportunity late, scoring his 7th goal of the year to ice the game for Philly.
Brian Elliot and the defense were strong yet again, similar to the Flyers' shutout of the Penguins before the All-Star break. The defense limited Detroit to just 16 shots on goal, all 16 of which Elliot stopped. Elliot's record improves to 13-5 with a 2.81 GAA and a save percentage of .903 as he's taken the brunt of the workload in Carter Hart's absence, and he's made his chances count.
The Flyers now improve to a tie with the Columbus Blue Jackets for 3rd in the Metropolitan with 65 points and a 29-17-7 record. They trail the Penguins and Capitals in the Metro, who have 71 and 75 points respectively. The Islanders are close behind with 64 points, and the Hurricanes are right behind them with 63. The Flyers have 29 games to go as we open the month of February right in the thick of the playoff hunt.