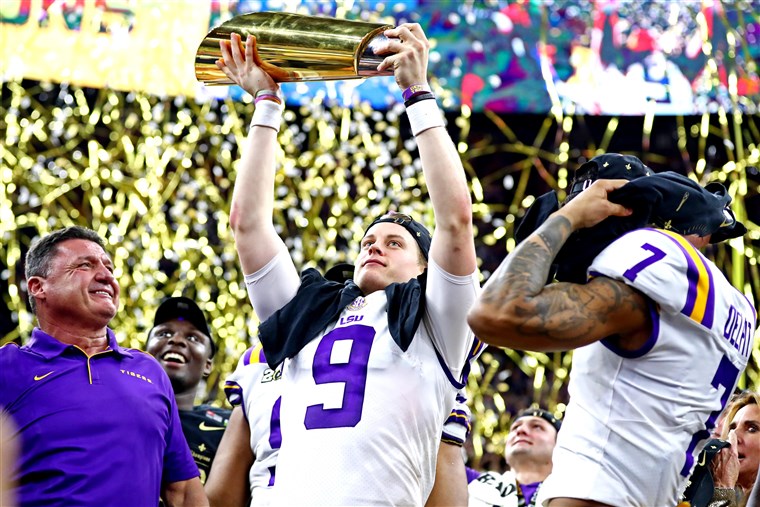 LSU takes down defending champ Clemson for college football supremacy
In the most anticipated college football event of the year, the defending champion Clemson Tigers, led by quarterback Trevor Lawrence matched up with the powerhouse Tigers of LSU, led by Heisman-winner Joe Burrow. In the end, Burrow and LSU secured the national title in dominant fashion with a 42-25 win on Monday night.
While both teams are strong on both ends of the ball, a more offensive shootout between two of the best QBs in the NCAA was expected. However, it ended up being a one-sided affair as Joe Burrow and the LSU offense dominated Clemson. The game was initially evenly matched in the 1st quarter, as both teams managed a touchdown, leaving it locked at 7-7. However, LSU caught fire in the 2nd, lighting up Clemson for 21 points, giving LSU the 28-17 halftime lead. The 2nd quarter LSU scoring summary: rushing TD by Burrow, and passing touchdowns to Ja'Marr Chase and Thaddeus Moss.
The 3rd quarter was the only quarter in which Clemson outscored LSU, as Clemson scored on a Travis Etienne touchdown, followed by a successful 2-point conversion. However, LSU countered with Thaddeus Moss' 2nd touchdown of the game to make it 35-25 going into the 4th quarter.
Clemson couldn't muster any kind of a comeback in the 4th, being held scoreless while LSU tacked on another touchdown as Burrow threw his 5th touchdown pass of the night to Terrace Marshall Jr., securing the College Football Championship 42-25 for LSU.
Burrow finished the final game of his Heisman-worthy college career going 31/49 for 463 yards and 5 TDs with no interceptions, a passer rating of 176.3. Ja'Marr Chase finished the night for LSU with a 221 yard, 2 TD performance.
The championship is a fitting end to the Joe Burrow era in LSU, as he'll now declare for the NFL draft, likely going 1st overall to the Cincinnati Bengals.