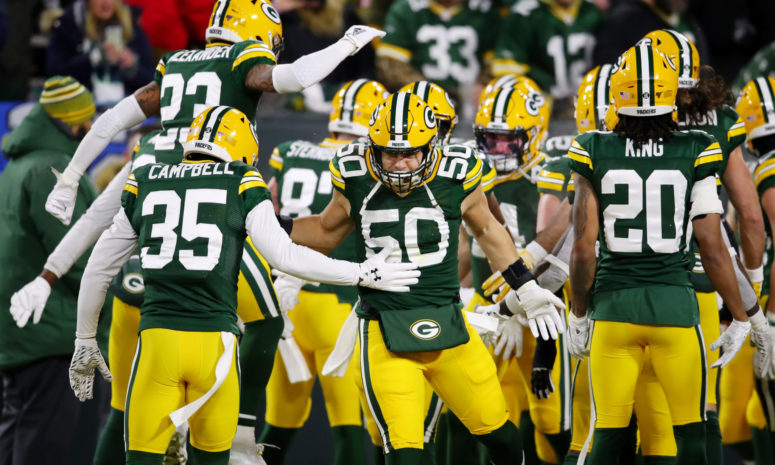 Packers' survive Seahawks' late comeback attempt; Move on to NFC Championship
5 years ago, the Seahawks eliminated the Packers as they pulled off a 16-0 second-half comeback in the NFC Championship game. On Sunday, Green Bay got its playoff revenge, as the Packers held on to defeat the Seahawks 28-23.
Packers' wide-receiver Davante Adams opened the scoring in the game, as he hauled in a 20-yard passing touchdown to put the Packers on top 7-0 in the 1st quarter. Seattle's defense couldn't get much momentum going in the quarter, only managing a field goal. The 2nd quarter only made matters worse for the Seahawks, as the Packers' other key offensive threat, Aaron Jones, made his impact. He rushed for 2, 1-yard touchdowns to suddenly put Green Bay on top 21-3 as the game went into halftime.
Coming out of halftime, Seattle finally found the endzone as Marshawn Lynch broke through for the 1-yard touchdown, making it a 21-10 game. However, Green Bay continued to add insurance as Aaron Rodgers found Davante Adams again, this time with a 40-yard score, for his 2nd touchdown of the game, making it 28-10.
Seattle finally started to show some fight late, as Russell Wilson hit Tyler Lockett with a 7-yard passing touchdown, bringing Seattle to within 11 as the 3rd quarter came to a close. In the 4th, Marshawn Lynch ran in his 2nd touchdown of the night, making it a 28-23 deficit. However, Green Bay managed to sack Russell Wilson on the 2-point attempt. ensuring a field goal couldn't tie the game late.
In the Packers' final drive of the game, on 3rd down, Packers' Jimmy Graham managed to get a first down on a pass from Rodgers. However, the legitimacy of the call is up for debate, as many claim Graham never got the 1st down. Had that been the call, Seattle would've gotten one last drive with roughly 1:30 left on the game clock. What Seattle could've done, with the season on the line, we'll never know. Regardless, the call stood as a 1st down, allowing Green Bay to ice the game and send the Seahawks home as their comeback fell just short.
Green Bay is now tasked with taking on the San Francisco 49ers with a chance at the Super Bowl at stake.